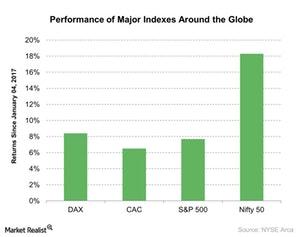 Marc Faber Thinks the US Has Underperformed Europe
By Sarah Sands

Updated
Marc Faber on investment decisions
Marc Faber isn't a great believer in equity investments. He believes investors should give other asset classes equal consideration. From the equity investment point of view, he said that investors should focus on value stocks that have the potential to provide strong returns.
We discussed in the previous part that Faber believes that most asset prices are inflated due to the Fed's persistent lower interest rates and quantitative easing. Faber believes that when investors want to concentrate on equity investment, they shouldn't just focus on the US market. They need to also focus on international markets.
Article continues below advertisement
The US versus Europe
Faber said that the US market has underperformed Europe this year. On a year-to-date basis, the S&P 500 Index returned nearly 7.7% as of July 5, 2017. Germany's (EWG) DAX Index returned nearly 8.4%, and France's (EWQ) CAC Index returned nearly 6.5% during the above period. Earlier in June 2017, he stated that European stock valuations look quite cheap compared to US stocks.
The US versus emerging markets
He also said that the US market has underperformed emerging markets (EEM). The iShares MSCI Emerging Markets ETF (EEM), which tracks the performance of the emerging markets, returned nearly 17.8% on a YTD basis as of July 5, 2017. India's (INDA) Nifty 50 Index and China's (YINN) Shanghai Composite Index have returned nearly 18.3% and 2.4%, respectively, during this period.
In the next part of this series, we'll analyze Marc Faber's view on central banks' recent statements.