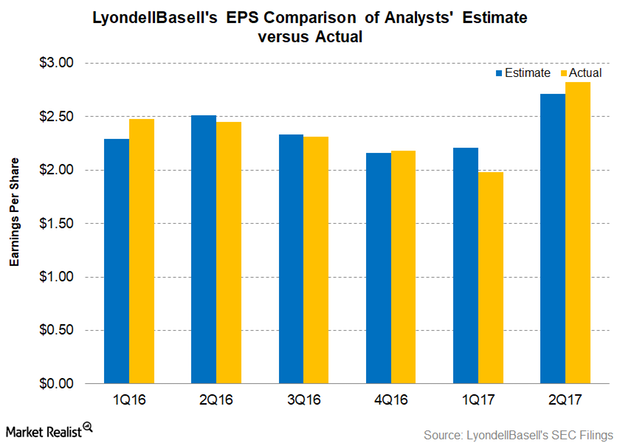 LyondellBasell Stock Rose, Earnings Beat Estimates
LyondellBasell's 2Q17 earnings
LyondellBasell (LYB) announced its 2Q17 earnings on July 28, 2017. It reported EPS (earnings per share) of $2.82—an increase of ~10.20% on a YoY (year-over-year) basis. In 2Q16 LyondellBasell reported EPS of $2.56. The company managed to beat analysts' estimate of $2.71.
LyondellBasell's 2Q17 earnings rose due to higher volume growth. The volume growth increased due to the demand for ethylene and improved productivity in refining crude volumes rising 45% compared to the previous year. LyondellBasell's SG&A (selling, general and administrative) expense, as a percentage of its sales, fell. In 2Q17, LyondellBasell's SG&A expenses were $200 million, which represents 2.4% of the company's sales. In 2Q16, LyondellBasell's SG&A expenses were at $199 million, which represented 2.70% of the sales—a decrease of 30 basis points on a YoY basis.
Article continues below advertisement
The other important factor for the company's higher EPS was the reduction in the total number of outstanding common shares. During 2Q17, LyondellBasell bought back ~5.4 million shares. As a result, the total number of outstanding shares at the end of 2Q17 stood at 402 million—compared to 425 million shares in 2Q16.
Stock price reaction
LyondellBasell's strong 2Q17 earnings caused the stock to rise ~3.90%. LyondellBasell closed at $89.89 on July 28, 2017. On the same day, its peers Westlake Chemical (WLK) rose 1.3%, while Eastman Chemical (EMN) and DuPont (DD) fell ~2.30% and 0.70%, respectively.
Investors can invest in LyondellBasell indirectly by investing in the iShares U.S. Basic Materials ETF (IYM). IYM has invested 4.8% of its portfolio in LyondellBasell as of July 28, 2017.
In the next part, we'll discuss LyondellBasell's revenue in 2Q17.