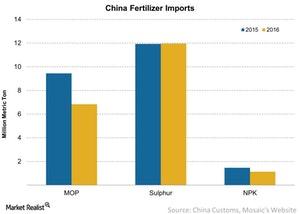 A Look at China's Fertilizer Imports
By Adam Jones

Jul. 7 2017, Updated 6:06 p.m. ET
Fertilizer imports
In the previous part of this series, we saw that China had large exports of urea among the fertilizer it produces in the country. China also exports phosphate fertilizers in large quantities. Let's turn our attention now to China's fertilizer-related imports.
Article continues below advertisement
Sulfur
In 2016, China imported 11.9 million metric tons of sulfur, which was almost flat from imports in 2015. Sulfur is used as a raw material for producing phosphoric acid, which in turn is used to produce phosphatic fertilizers such as DAP (diammonium phosphate) and MAP (monoammonium phosphate). China's phosphate exports have been a cause of concern for companies such as Mosaic (MOS), PotashCorp (POT), Agrium (AGU), and Israel Chemicals (ICL).
Given that some of the fertilizers are commodities, the tide can quickly change in favor of producers (XLB), which can lower the cost further. Government subsidies can help a producer lower its cost of production. However, it's not sustainable for the long term.
MOP
China also fulfills most of its MOP (muriate of potash) needs from imports. In 2016, the country imported about 6.8 million metric tons of MOP, which was about 28.0% lower year-over-year from 2015.
In 2016, most potash producers saw their shipments decline as buyers in China and India waited for the price to bottom out and delayed their purchases. With inventories running dry, the demand was expected to rebound, which was apparent in the most recent earnings of potash producers.
China also imported about 1.1 million metric tons of blended NPK (nitrogen, phosphorous, potassium) fertilizer in 2016, which was about 23.0% lower year-over-year.
Next, we'll take a look at the Indian market.