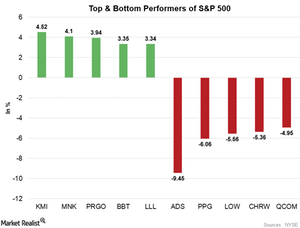 Kinder Morgan Was the S&P 500's Top Gainer on July 20
By Val Kensington

Updated
Top gainers and losers
The top gainers in the S&P 500 on July 20, 2017, were:
The top losers in the S&P 500 on July 20, 2017, were:
Article continues below advertisement
Kinder Morgan
Kinder Morgan, the largest energy infrastructure company in North America, was the biggest gainer in the S&P 500 on Thursday. The stock rose due to the second quarter earnings report and Kinder Morgan's announcement of a dividend hike.
Kinder Morgan's second quarter earnings were $0.14 per share—in line with the market's forecast but $0.01 below its earnings per share in 2Q16. In the second quarter, its operating income was $922 million with a profit of $337 million—an increase in its quarterly profit compared to $333 million profit in 2Q16. Amid increased profits, Kinder Morgan announced a dividend increase.
Kinder Morgan announced its plans to increase the dividend 60% in the next year. It plans on more increases through 2020. It's the first dividend increase by Kinder Morgan since it cut its dividend 75% to $0.13 per share quarterly in 2015. According to management, the quarterly dividend will be increased to $0.80 per share in 2018, $1 per share in 2019, and $1.25 per share in 2020. Kinder Morgan also announced a share buyback program of ~$2 billion worth of shares.
Due to increased sentiment, Kinder Morgan rose 4.5% and closed the day at $20.56.
In the next part, we'll discuss how the US dollar and US Treasury yields are performing early on July 21.