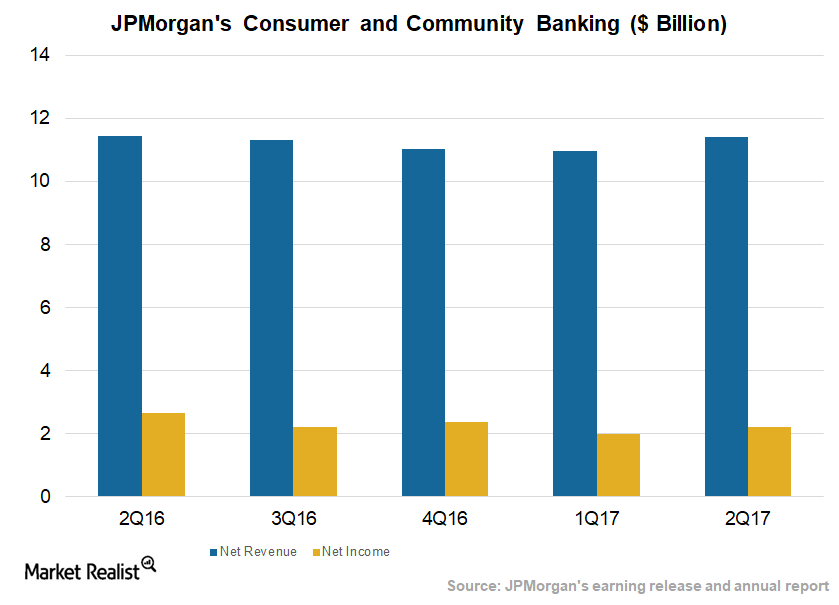 JPMorgan Chase's Banking Rise, Mortgage, and Card Subdued in Q2
By Robert Karr

Jul. 18 2017, Updated 9:08 a.m. ET
Consumer and community (or CCB)
JPMorgan Chase's (JPM) Consumer and Community Banking division posted net revenue of $11.41 billion in 2Q17, compared to $11.45 billion in 2Q16 and $10.97 billion in 1Q17. Revenues remained flat on a year-over-year basis, mainly due to growth in consumer and business banking, offset by a decline in mortgage banking and card, commerce, and auto solutions. The division's prior-year results included a $200 million gain on the sale of a Visa Europe stake, excluding non-core items, revenues would have been up 2%.
Article continues below advertisement
CCB's consumer and banking business grew 13% to $5.2 billion, helped by high deposit growth as well as improved net interest margins boosted through rate hikes. However, higher rates impacted mortgage banking, resulting in a revenue decline of 26% to $1.4 billion. On the other hand, CCB's card, commerce, and auto solutions also saw a decline of 3% in revenues to $4.8 billion due to higher origination costs.
Lower net on spending
JPMorgan's CCB posted net income of $2.22 billion in 2Q17, compared to $2.66 billion in 2Q16 and $1.99 billion in 1Q17. The fall of 16% on a year-over-year basis was mainly due to higher expenses and provisions. The non-interest expenses rose 8% to $6.5 billion in 2Q17, led by higher investments in marketing, auto lease depreciation, and investments for business growth. CCB's provision for credit losses grew $193 million to $1.4 billion, reflecting a higher reserve built up of $350 million in the card business. JPMorgan's credit card offerings in and outside the United States face competition from consumer finance companies (XLF) like MasterCard (MA), Visa (V), and American Express (AXP).