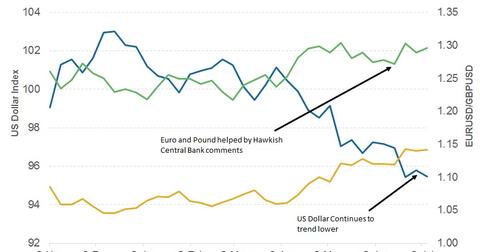 Is There New Hope for the US Dollar after Yellen's Latest?
By Ricky Cove

Updated
Rate hike hope gives push to the US dollar
The US dollar (UUP) appears to have received a lifeline after US Federal Reserve Chair Janet Yellen's most recent testimony to US Congress. In her remarks, Yellen sounded cautiously optimistic about the US economy and markets, indicating that US interest rates should continue to increase.
Rising interest rates in the US are positive for the dollar (USDU), and so these comments helped the dollar to crawl back from its eight month low of 95.22 recorded earlier this week.
The dollar has been battered in recent weeks against the euro (FXE) and the British pound (FXB) after the ECB (European Central Bank) and the BOE (Bank of England) signaled an end to their quantitative easing programs.
The dollar has depreciated 8.5% against the euro and nearly 5.1% against the pound (GBB) so far this year.
Article continues below advertisement
Relative valuations in play
In foreign exchange or forex markets, relative valuation plays an important role in determining the value of a currency. The dollar's rally since the US election in November 2016 was based on the expectation of fiscal and tax reforms—neither of which have yet been enacted—and the Fed's tightening policy.
Europe and the UK were facing political and economic uncertainties at that time but have since managed to return to normalcy. With things now on equal footing, monetary policies will define the path for the currencies in the near future.
However, it now appears likely that markets have priced in all the positive news from the ECB and the BOE—and have overpriced the weakness in the US economy. Once the economic data from the US rebounds (which is expected to happen in this quarter), we can expect the dollar to claw back some of its losses.
Conclusions
Yellen's testimony in the past two days has not given out any new information. Other Federal Open Market Committee members also seem optimistic about the US economy and expect the transitory slowdown in 1Q17 will give way to continued growth in the US economy and inflation. Economic data in coming weeks and months will be an important tool to predict the next move from the US Federal Reserve.