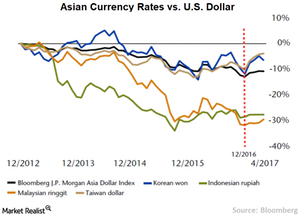 Why Investors Must Focus on Quality Asian Stocks
By Matthews Asia

Jul. 25 2017, Updated 7:39 a.m. ET
Matthews Asia
Asian currencies, which had weakened as economies entered this period of wringing out the excess, have stabilized and (like the Korean Won and the Taiwan dollar) even strengthened against the US dollar. These are all signs of stability rather than exuberance.
It's always hard to time markets based on second-guessing shifts in sentiment. Unless valuations are ridiculously high (and I don't think they are) and the economic backdrop is worsening, (I actually think there has been moderate improvement) the precise moment and duration and depth of any correction is hard to judge. It's at times like this though that you need to be confident in the underlying quality of the businesses you own. If you are happy to hold onto a business for the long term, it's more comfortable to weather these periods of uncertainty. On the other hand, if you have bought equities on the basis of price movements alone, regardless of the underlying quality of the business, you have a much more fragile basis on which to continue to hold them.  
Article continues below advertisement
Market Realist
Asian currencies are stabilizing
Asian currencies have seen a decent rally so far in 2017. The Bloomberg J.P. Morgan Asia Dollar Index, which tracks the ten most active currencies in the region (excluding Japan), has spiked 3.4% since its low of 102.6 recorded on December 28. Although a further rally in Asian currencies is highly unlikely, these currencies are expected to stabilize at their current levels.
Focus on reform-driven economies
Over the long term, many investors are choosing to focus on markets that are showing substantial progress on various structural reform agendas. India (INDA) (EPI) is implementing major tax reforms in the form of its GST (Goods and Service Tax), while in Indonesia, progress has been made on land acquisition reform and the recent tax amnesty scheme.
Meanwhile, China (FXI) (GXC) is trying hard to shift its economy from export-led growth to a consumption-driven economy. Recently, Chinese Premier Li Keqiang said that the country plans to ease restrictions related to the granting of market access, foreign ownership, and the treatment of foreign companies.
Markets poised to grow?
Asian markets (AAXJ) are currently trading at cheaper valuations than those of developed markets. Although they've suffered a downturn in earnings, they've been improving quite well lately.
As you can see in the chart above, emerging Asian companies are experiencing the best ROE (return on equity) since 2010, with expectations of even higher growth later in 2017. Over the long run, quality stocks with high returns on capital and businesses with the ability to generate greater cash flows are likely to offer the best performances.