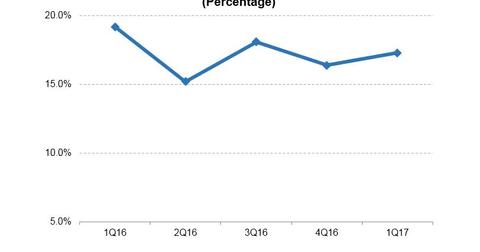 Inside PayPal's Pitch to Large Merchants
By Neha Gupta

Updated
Wooing large business customers
Since separating from eBay (EBAY) in 2015, PayPal (PYPL) has stepped up its efforts to grow its base of large merchant customers. The majority of the 16 million merchants that use PayPal are small vendors. However, PayPal is keen to attract large retail brands such as Amazon (AMZN) to its network.
PayPal's president and CEO, Daniel Schulman, attended the Sanford C. Bernstein Strategic Decision Conference in June. The company's CFO, John Rainey, attended the J.P. Morgan Global Technology, Media, and Telecom Conference on May 22. Both executives spoke about how the company is trying to woo large merchants.
Schulman's comments revealed that PayPal's transformation from a product company to a platform provider has a lot to do with appealing to large business customers.
Article continues below advertisement
Strategic adviser to large retailers
Schulman stated that PayPal has emerged as a platform of choice and a strategic adviser to large retailers. As a platform, PayPal is not only processing payments for merchants but is also helping them identify high-value potential customers. This capability could allow these merchants to increase their sales.
PayPal is also utilizing features such as One Touch to appeal to large merchants by demonstrating how the feature helps streamline checkout. This improvement could be an incentive to encourage consumer buying.
Supporting rival payment services
PayPal sees certain benefits in running a platform. As a platform, PayPal would support rival payment services such as Apple Pay by Apple (AAPL) and Android Pay by Alphabet's (GOOGL) Google.
By supporting these rival services, PayPal can gain useful insight into consumer habits, and it can leverage that data to improve its value proposition to large merchants. This could boost PayPal's revenue growth. PayPal's revenues rose 17.3% year-over-year to ~$3.0 billion in 1Q17. The chart above shows PayPal's revenue growth trend.