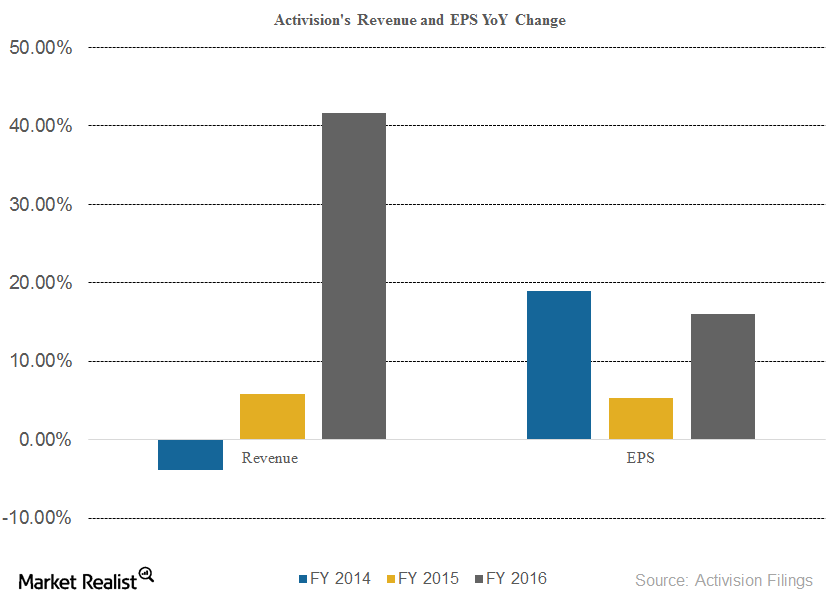 Inside Activision's Revenue Metrics
By Adam Rogers

Dec. 4 2020, Updated 10:53 a.m. ET
Activision's revenue could decline
Analysts expect Activision's (ATVI) revenue to fall 24.3% YoY (year-over-year) in 2Q17 to $1.22 billion. For 3Q17, analysts expect Activision's revenue to rise marginally to $1.63 billion, whereas for fiscal 2017, the firm's revenue is expected to fall 1.4% YoY to $6.5 billion.
However, analysts expect Activision to return to revenue growth in fiscal 2018 with a rise of 9.6% YoY and revenue of $7.13 billion.
Article continues below advertisement
In fiscal 2013, Activision reported revenue of $4.58 billion. The firm's revenue fell 3.8% YoY to $4.40 billion in fiscal 2014. Its revenue then rose 5.8% in fiscal 2015 to $4.66 billion and 41.7% YoY in fiscal 2016 to $6.60 billion. Activision's revenue rose significantly in fiscal 2016 due to its acquisition of King Digital and to its focus on digital gaming and e-sports.
Activision's non-GAAP (generally accepted accounting principles) EPS (earnings per share) has increased steadily from $0.95 in fiscal 2013 to $1.13, $1.19, and $1.38, in fiscal 2014, fiscal 2015, and fiscal 2016, respectively, driven by improvements in profit margins and revenue.
Profit margins
In fiscal 2013 Activision's gross margin was 66.6%. By comparison, Activision's gross margin in fiscal 2014, fiscal 2015, and fiscal 2016 were 65.4%, 66%, and 63.8%, respectively.
Activision's operating margin in fiscal 2013 was 30%. This fell to 27% in fiscal 2014 and improved to 28.3% in fiscal 2015. Its operating margin, however, fell to 20% in fiscal 2016.
Activision has a market cap of $45 billion. Peer companies Sony (SNE), Electronic Arts (EA), Take-Two Interactive (TTWO), and Zynga (ZNGA) have market caps of $51 billion, $34 billion, $8 billion, and $3.2 billion, respectively.