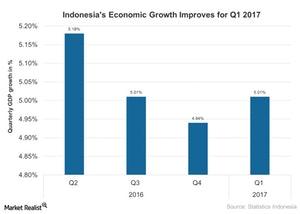 Indonesian Exports Provide Support as Consumption Falls
By Mary Sadler

Updated
Indonesian economy
The Indonesian (EIDO) economy rose 5.0% on a year-over-year basis in 1Q17—slightly better compared to 4.9% growth in 4Q16. Its GDP figures in 1Q17 were updated on May 5, 2017. The figures exceeded the market's estimate of 5% growth. Indonesia's performance in 1Q17 was mainly due to higher exports—driven by the rise in commodity prices (DBC).
Let's look at Indonesia's GDP growth over the last year in the following chart.
Article continues below advertisement
Indonesia's GDP growth in 1Q17
Indonesia's economic growth in 1Q17 was supported by government spending, which rose 2.7%—in contrast to a 4.1% fall in 4Q16. Private non-profit expenditure rose 8.0%—compared to 6.7% growth in the previous quarter. Exports grew 8.0% in 1Q17—much higher compared to 4.2% growth in the last quarter. Meanwhile, imports rose 5.0%—compared to a 2.8% increase in the previous quarter.
Private consumption continues to accelerate at a slower pace of 4.9% on a year-over-year basis—slower than 5% growth in the last quarter. However, consumer confidence drives spending. Consumer confidence has improved over the last two months.
Expectations
Improved economic fundamentals and policy reforms are expected to drive economic growth in Indonesia in 2017. Reforms across emerging markets like India (INDA), Argentina (ARGT), and Brazil (EWZ) seem to be the theme for growth in 2017. President Joko Widodo aims to improve economic growth by attracting investments and improving infrastructure through his reforms.
However, economic growth is currently fueled by the exports. Economic growth is expected to face tough times ahead. Commodity prices have been on a declining trend. Global demand improved but doesn't ensure growth due to some economies having a protectionist stance—the US (SPY) and the United Kingdom (EWU).
Indonesia's economic growth is expected to be 5.0%–5.4% for 2017 due to rising exports and investments, according to Bank of Indonesia.
In the next part, we'll look at the inflationary trend in Indonesia.