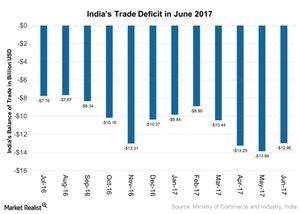 India's Rising Trade Deficit and the 2017 Rupee Uptrend
By Mary Sadler

Jul. 27 2017, Updated 3:05 p.m. ET
Trade balance in 2017
The trade gap in India (INDA) continued to widen in June 2017. In the month, it stood at $12.9 billion, a 59.7% rise year-over-year (or YoY) and a 6% fall month-over-month.
Trade performance is usually measured in terms of imports, exports, trade balance, total trade, and growth over the years. India's reliance on trade is low compared to its emerging market peers China (FXI) and Brazil (EWZ). However, its import dependence has been rising over the last few decades.
Article continues below advertisement
Trade balance in June 2017
India's (INDY) trade deficit in June 2017 remained above the market's expectation of $12.5 billion. The country's exports in the month stood at $23.6 billion, a 4.4% YoY rise—the slowest since January 2017. Exports rose for products such as rice at 27.3% and marine products at 24.3%.
Exports also rose for engineering goods, organic and inorganic chemicals, and petroleum products. Non-petroleum, non-gem, and jewelry shipments rose 6.0%, compared to the same period in 2016. Exports in 2Q17 stood at $72.2 billion, an 11% rise compared to 2Q16.
June's imports stood at $36.5 billion, a 19% YoY rise but also the slowest rise since January 2017. Imports increased mainly for petroleum, crude, and crude products at 12.0%, electronic goods at 24.2%, pearls, precious stones, and semiprecious stones at 86.3%, machinery, electrical, and non-electrical at 7.0%, and gold at 102% in June, compared to the same period last year. Imports in 2Q17 stood at $112.3 billion, a 33% rise compared to 2Q16.
Article continues below advertisement
Rising imports and the rupee
India (EPI) has recorded sustained trade deficits in the last three decades, mainly due to its increased imports, specifically its imports of crude oil (USO), gold (GLD), and silver (SLV). The biggest trade deficits were recorded with China, Iraq, Saudi Arabia, Kuwait, and Switzerland.
India's (EEM) trade deficit was ~0.6% of its GDP in the first three months of 2017. Its imports of oil, petroleum products, gold, and silver accounted for more than 45% of its total imports as of April 2017. 
The current global protectionist scenario and increasing trade deficit levels are expected to affect the uptrend in the Indian rupee (INDA) in 2017. According to BusinessLine, the rupee fell on July 25, 2017, closing at 64.30 against the US dollar due to increased demand for the dollar from importers.
Let's consider increased consumption and its impact in India in our next article.