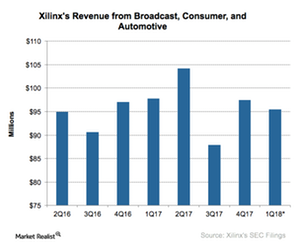 How Xilinx Stacks Up against NVIDIA in the Automotive Market
By Puja Tayal

Jul. 21 2017, Updated 10:38 a.m. ET
Broadcast, Consumer, and Automotive
Xilinx's (XLNX) Industrial, Aerospace, and Defense segment is growing faster than its Communications and Data Center segment as industrial IoT (Internet of Things) growth gathers momentum. However, the segment that is expected to grow the fastest is the Broadcast, Consumer, and Automotive segment, with Automotive being the key growth driver.
Article continues below advertisement
Xilinx's revenues from Broadcast, Consumer, and Automotive
Xilinx's revenues from Broadcast, Consumer, and Automotive rose 11% sequentially to $97.4 million in fiscal 4Q17, accounting for 16% of the company's revenues. The company does not give a breakdown of revenues from each end market, but a major portion of the segment's revenues comes from Broadcast and Consumer.
Like NVIDIA (NVDA), Xilinx's Automotive revenues currently come from infotainment systems. NVIDIA's automotive revenues rose 9% sequentially during the same quarter.
Fiscal 2Q and 4Q are seasonally strong for Broadcast, Consumer, and Automotive, and the other two quarters are seasonally flat or down. The segment's revenues are expected to remain sequentially flat at around $97 million, or they could fall 2% to $95 million in fiscal 1Q18. The company expects the segment's revenues to grow more than 10% in fiscal 2018.
Article continues below advertisement
Autonomous cars
Xilinx is the second-largest semiconductor supplier for ADAS (advanced driver assistance system). Its automotive revenues grew at an average annual rate of 60% between fiscal 2013 and 2017. The company is working with several automakers on their autonomous car projects. However, this sector is still in the development stage and is unlikely to generate revenues for the next two to three years.
Car automation would happen at five levels. Level 5 represents the self-driving car, which is expected to hit the road after 2020. The ADAS system currently offers Level 2 and Level 3 automation. Xilinx supplies its 16nm (nanometer) chips for this system. As the industry moves toward Level 4 and Level 5 automation, Xilinx would supply 7nm chips.
NVIDIA is at the forefront of autonomous vehicle technology. Its Drive PX 2 AI platform, which offers Level 3 automation, would be featured in Tesla's (TSLA) Model X cars and Toyota's (TM) cars by the end of 2017.
Xilinx believes that mass-market autonomous driving requires a variety of software and sensors, creating the need for a comprehensive solution powered by CPUs (central processing units), FPGAs (field programmable gate arrays), and GPUs (graphics processing units). This market would have enough capacity for Intel (INTC), Xilinx, and NVIDIA.
NVIDIA and Xilinx compete in the same end markets but use different technologies. Intel and Xilinx compete in the same end markets using similar technologies. Next, we'll look at the competition between Xilinx and Intel.