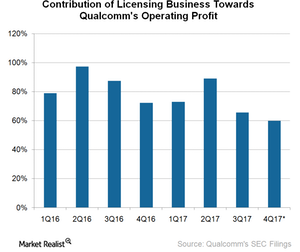 How Will Qualcomm Curb the Contagion Effect from Apple's Case?
By Puja Tayal

Updated
Is Qualcomm making efforts to curb a contagion effect?
Qualcomm (QCOM) has been in a fierce battle with Apple (AAPL) for over six months with no sign of either party's backing out. On Qualcomm's fiscal 3Q17 earnings call, several analysts questioned the contagion effect the Apple case could have on Qualcomm and how the chip supplier planned to resolve the issue.
In response, Qualcomm's president, Derek Aberle, stated that this wasn't the first time the company had had licensing disputes with its customers. He referenced a similar patent dispute that QCOM had with Nokia (NOK) in 2008. At that time, Nokia commanded 40%–50% of the handset market, but the dispute didn't result in other licensees' withholding payment.
Article continues below advertisement
Is Qualcomm willing to settle out of court?
At the 2017 Brainstorm TECH conference in Colorado, Qualcomm's CEO, Steve Mollenkopf, suggested that such matters are generally settled out of court. He said, "Those things tend to get resolved out of court and there's no reason why I wouldn't expect that to be the case here."
On one hand, Qualcomm's statement shows that it's willing to make an out-of court settlement, but on the other hand, it's filing a complaint requesting an import ban on certain iPhones, further aggravating the matter.
Possibility of a settlement between Qualcomm and Apple
The goal of Apple's lawsuit is not a courtroom victory but favorable licensing terms. Derek Aberle stated that Qualcomm is looking to negotiate a long-term agreement with Apple that's consistent with the value of its intellectual property.
The pressure is on for both companies to negotiate a settlement. Qualcomm can't afford to lose a customer such as Apple, and Apple would be stuck with Intel's (INTC) lower-performance modems, delays in supply, and import bans. If Apple wins the case, Qualcomm's licensing revenue will fall significantly, followed by several other licensing renegotiations. Apple's strong cash flows give it the upper hand to force Qualcomm to settle.
There's a high possibility of the two companies' reaching an out-of-court settlement. JPMorgan Chase analyst Rod Hall expects them to negotiate a deal and return to normalized royalty levels by 2019.
Other options for Qualcomm
If Qualcomm doesn't negotiate with Apple, it could mitigate the legal impact by splitting its chipset and licensing business. It could sell the business to a third company and retain a stake in that company with exclusive licensing agreements.
Another option it's already working on is acquiring NXP Semiconductors (NXPI) to reduce its exposure in the mobile space and develop alternate revenue streams in markets such as automotive and IoT (Internet of Things).
Next, we'll look at Qualcomm's progress in terms of fines and probes of other regulators.