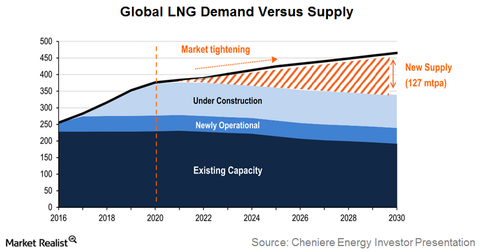 How the LNG Supply Glut Could Affect Cheniere Energy
By Kurt Gallon

Updated
Global LNG market
In the previous article, we explored how Cheniere Energy has played a major role in the United States, becoming a major LNG (liquefied natural gas) player. In this article, we'll take a look at the recent trend in the global LNG market.
Article continues below advertisement
Pre-2020
The global natural gas market is expected to be flooded with LNG supplies in the next two three years due to a rise in LNG exports from LNG-producing nations, including the United States, Australia, and Qatar, resulting in pressure on LNG prices.
This supply comes at a time when demand is falling in major LNG importing nations, including Japan and South Korea. According to the IEA (International Energy Agency), "A new wave of liquefaction capacity is coming online at a time when the LNG market is already well supplied. This LNG glut is already affecting price formation and traditional business models – and attracting new LNG-consuming countries like Pakistan, Thailand and Jordan."
The IEA expects global natural gas demand to rise 1.6% per year over the next five years, much less than the current rise in LNG supply. This could affect Cheniere Energy's capacity not tied to its long-term contracts. This pricing pressure could also lead to the renegotiation of Cheniere's long-term contracts.
However, the current government's keenness to boost LNG exports to Asian and European markets could benefit Cheniere Energy and other US LNG players such as Kinder Morgan (KMI) and Dominion Resources (D) amid uncertainty in the LNG market. LNG exports were a major part of the agenda during President Donald Trump's recent visit to Poland. Before this, the government had signed an LNG trade deal with China.
Post-2020
Cheniere Energy expects the LNG market to tighten after 2020 due to an insufficient amount of LNG projects under construction. According to Cheniere Energy, "Global LNG market needs competitive new supplies to fill the approaching supply gap."