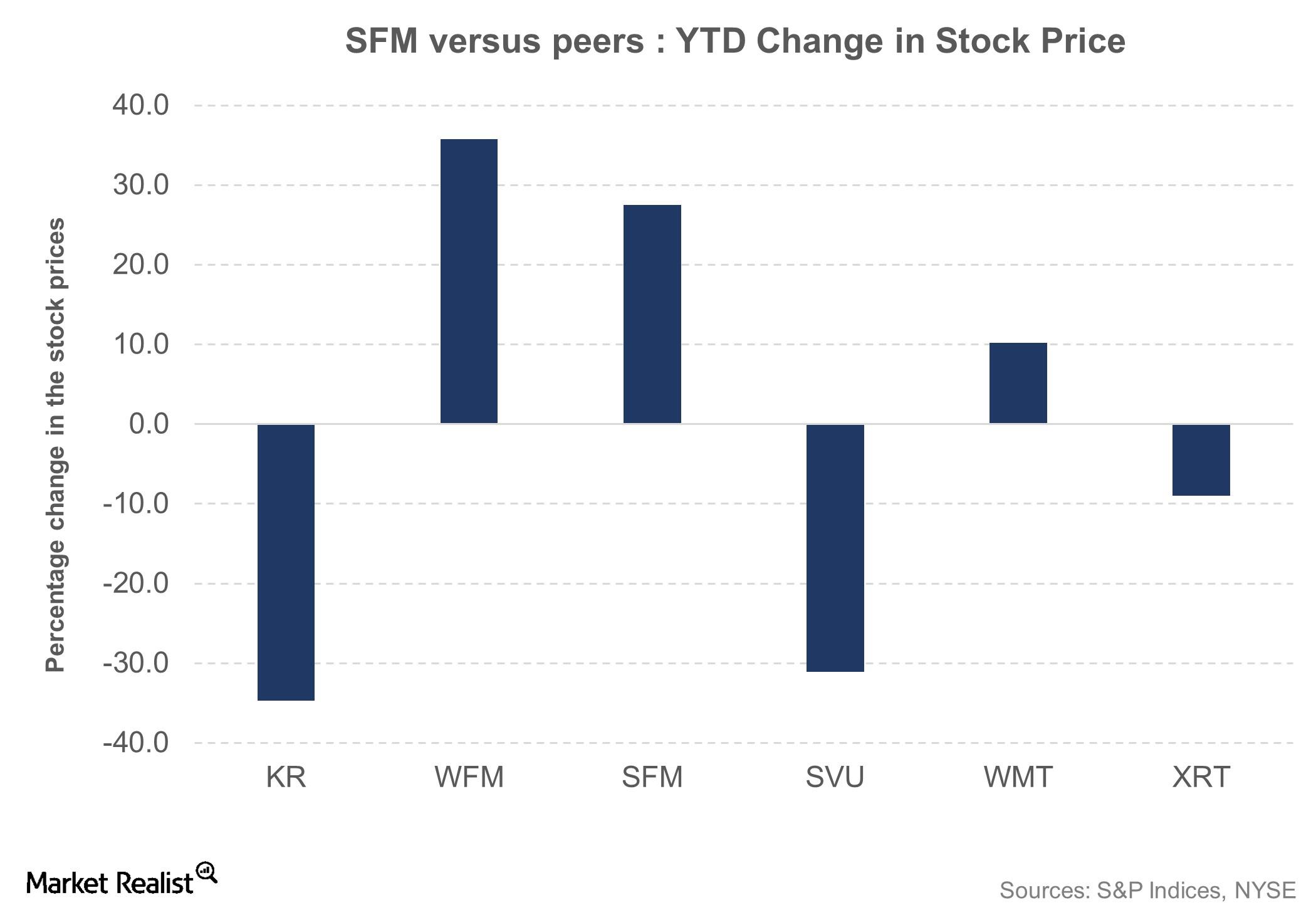 How Sprouts Farmers Market Stock Has Fared in 2017 So Far
Sprouts Farmers Market's stock market performance
After bleeding for two years in the stock market, Sprouts Farmers Market (SFM) finally bounced back in 2017. The value-oriented organic food retailer's stock price has jumped 27% YTD (year-to-date) after tumbling 52% between 2014 and 2016.
The company has done better than Kroger (KR) and SuperValu (SVU), which lost 35% and 30% of their value, respectively, year-to-date. Whole Foods Market (WFM) has gained 36% this year. Most of this gain followed the Amazon deal, which was announced on June 16.
SFM has outperformed the seven-company S&P 500 Food and Staples Retail Index and the S&P 500 Index (SPX), which have YTD returns of -1.2% and 9.8%, respectively. The SPDR S&P Retail ETF (XRT), which invests 1% of its portfolio in SFM, has fallen ~9% YTD.
Article continues below advertisement
The Amazon–Whole Foods deal
On June 16, 2017, Amazon announced its intention to acquire Whole Foods Market for $13.4 billion. Although the deal bolstered Whole Foods Market's stock price by 29%, KR, SFM, and SVU fell 9.2%, 6.3%, and 14.4%, respectively, after the announcement.
Kroger tumbled 22% in June, which was also driven by the grocery giant's guidance revision to the $2.00–$2.05 range compared to its earlier guidance of $2.21–$2.25.
What can you expect from SFM stock?
Sprouts Farmers Market (SFM) traded at $24.13 on July 19, 2017, which was ~7.7% below its 52-week high price. Wall Street analysts assigned an average price target of $25.24, which indicates an upside of ~5% over the next one-year period. Individual target prices for the company range between $22.00 and $30.00.
Kroger and SuperValu have better upsides of 17% and 62%, respectively. However, Whole Foods Market's stock price is predicted to fall 7% over the next year.
Read the next section to see what Wall Street recommends for SFM and its peers.