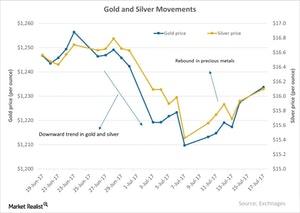 How Precious Metals Performed on July 17
By Meera Shawn

Updated
Precious metals on July 17
The four precious metals rose on Monday, July 17. In this series, we'll discuss what could have led to their price rise. Gold futures for August expiration closed at $1,233.7 an ounce after having touched the day's high of $1,235.4 per ounce. Gold futures on Monday were 0.51% higher than their previous day's close and have a five-day trailing gain of 1.7%. Gold could rise above the $1,250 level if market participants continue with their optimism.
Article continues below advertisement
Silver futures for September delivery were 1% higher than the previous day and ended at approximately $16.1 an ounce. Silver futures have a five-day trailing gain of 3%. Platinum for August delivery is 0.7% and closed at $927.8 per ounce. It has a five-day trailing gain of 3.1%. Palladium for August expiration rose 1% to settle at $870.9 per ounce, and it has grown 3.3% over the past five trading days.
Besides the dollar and interest rates that have been playing a major role in the price movement of precious metals, some global news has also contributed to price variations. The overall risk sentiment of the market is also one of the crucial determinants of the price changes of gold and silver.
Optimistic Chinese data
Chinese economic data topped forecasts with a 6.9% rise in GDP. The world equity markets rose substantially after the news came out. The equity markets and gold sometimes have an inverse relationship, but not always. When investors start parking their money in equities (URTH), they may move away from safe-haven assets like gold (GLD). There's a chance that long-term upward trends in the equity markets could cause gold to fall.
Though mining shares belong to the equity segment of the market, they could carefully follow the metals. The mining stocks that also saw a recovery in their price over the past week include Alamos Gold (AGI), B2Gold (BTG), Royal Gold (RGLD), and First Majestic Silver (AG).