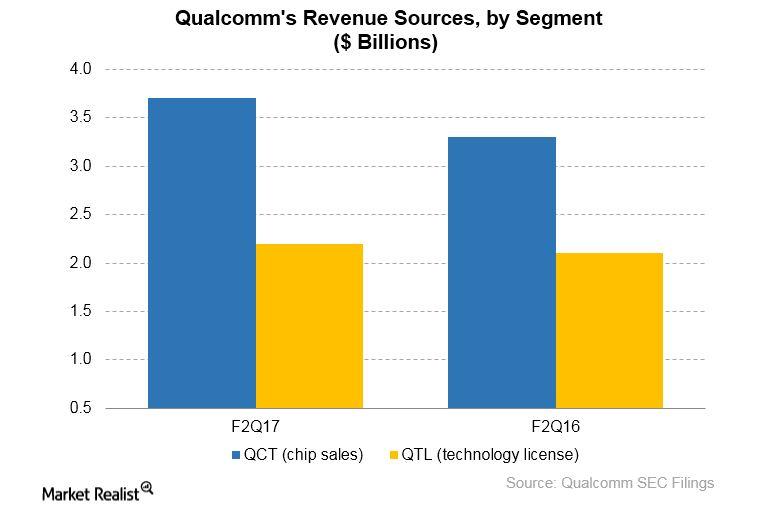 How Petya Attack Could Benefit Qualcomm
By Ruchi Gupta

Nov. 20 2020, Updated 4:10 p.m. ET
Snapdragon for Windows laptops
To deal with the slowdown in its core mobile market, Qualcomm (QCOM) has been seeking new growth opportunities in the Internet of Things, data center servers, and personal computer markets.
Exploring new opportunities is also part of Qualcomm's response to growing threats from Intel (INTC) in the mobile chip market. Apple (AAPL) dropped Qualcomm chips for Intel chips in some iPhone 7 devices.
As part of its push into new markets, Qualcomm took the opportunity at the Computex trade show earlier this year to unveil Windows manufacturers that had decided to use its Snapdragon chip in their new line of laptops. Windows PC makers committing to adopt Qualcomm chips in their new laptops included HP (HPQ), Lenovo, and Asus.
Article continues below advertisement
Benefits of Snapdragon laptops
Qualcomm said that Windows laptops running its Snapdragon chips would benefit from longer battery life (QQQ) (XLK) and the ability to connect to the Internet wirelessly at high speeds of up to 1 gigabit per second.
Models of Windows laptops running on Snapdragon chips were expected to come out in the second half of this year.
Making a killing from Windows device upgrades
The unveiling of Windows laptops powered by Snapdragon chips is set to start at a moment when the world is grappling with growing cybersecurity threats directed at Windows users including WannaCry ransomware in May and Petya ransomware not a month later.
Computers running outdated Windows software are vulnerable to such security threats. Now that the growing security threats are likely to inspire more Windows users to upgrade their devices, Qualcomm could make a killing with Snapdragon laptops, considering their timing.
As illustrated in the above chart, Qualcomm generates the majority of its revenue from chip sales.