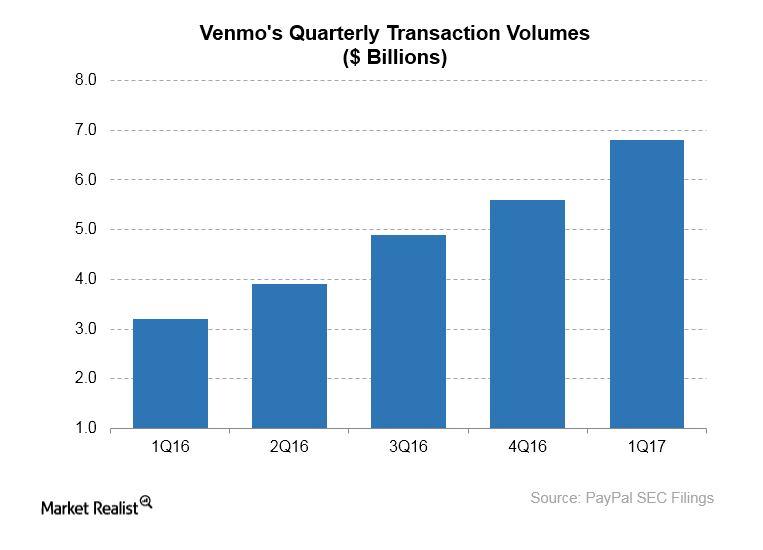 How PayPal Plans to Monetize Venmo
By Neha Gupta

Jul. 7 2017, Updated 7:36 a.m. ET
Pay with Venmo
PayPal (PYPL) has discovered how to monetize its P2P (peer-to-peer) payment service, Venmo. In addition to supporting money transfers, Venmo also has a social component that allows users to discuss their transactions, including what they have purchased, from whom, and which brand.
Speaking at the Sanford C. Bernstein Strategic Decision Conference, PayPal's CEO, Daniel Schulman, discussed its Venmo monetization plans. PayPal's CFO, John Rainey, also discussed this topic at the J.P. Morgan Global Technology, Media, and Telecom Conference on May 22, 2017.
Those plans including rolling out a shopping feature called Pay with Venmo. As Schulman explained, this feature would enable Venmo users to conveniently pay for online purchases through their Venmo account. Plus, merchants would be able to accept Venmo payments as they accept Pay with PayPal.
Article continues below advertisement
Automatically changing the payment button
PayPal would charge merchants for processing Pay with Venmo transactions the way it does with Pay with PayPal. The company said merchants would not need to reprogram their systems to accept Venmo payments. Instead, the payment button would change automatically to Pay with PayPal or Pay with Venmo depending on the account the shopper is using.
Venmo is popular among Millennials. PayPal said that Venmo's payment volumes shot up more than 100% to $6.8 billion in 1Q17, as illustrated in the chart above.
Promoting brands on Venmo
Schulman also hinted that PayPal could also make money from Venmo by tapping into its social feature to promote brands.
PayPal is gearing up to take Venmo to another level at a time when the P2P market is starting to heat up. Apple (AAPL) recently announced its entry into the P2P market with Pay Cash to take on PayPal and Square (SQ). Facebook (FB) competitor Snap (SNAP) also has a P2P service tied to Square's platform.