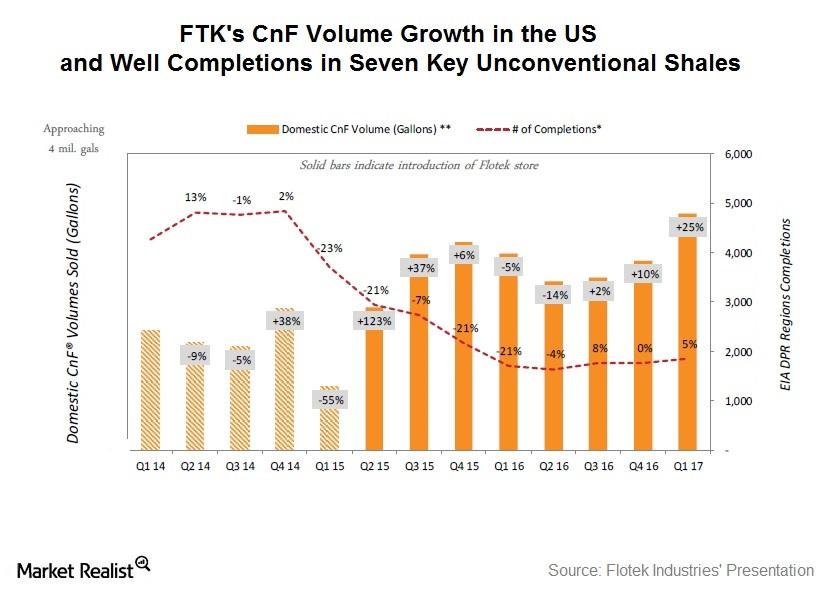 How Is Flotek Industries Positioned to Grow in 2017?
By Alex Chamberlin

Nov. 20 2020, Updated 1:30 p.m. ET
How are industry drivers affecting Flotek Industries?
US energy production has gone through a strategic transformation since the energy depression of 2014, and US crude oil production has risen ~11% from the low in July 2016. This was led by huge production growth in the US shales, prompted by efficiency gains and technology improvement.
But in 2017, crude oil prices have lost nearly 16%, after recovering 45% in 2016. You can read more about crude oil prices and production in Market Realist's series US Crude Oil Production and Inventories Drive Oil Prices.
Flotek Industries (FTK) primarily provides specialty chemicals and logistics solutions in drilling, cementing, stimulation, and energy production. The company is positioned to benefit from a growing focus on fluid design and overall well complexity.
Factors like lower drill times, well spacing, and proppant loading are adding to increased complexity, which boils down to fluid application acceleration.
Article continues below advertisement
Does CnF help improve productivity?
Flotek Industries has more than 50 formulations of CnF (complex nano-fluid) technologies. Its fluid design treatments can be applied to hydraulic fracturing through the full life-cycle of the well.
Since oil prices reached a peak in 3Q14, well completions in the seven key energy shales, or in DPR regions, has fallen 60%. During the same period, CnF volumes have expanded 125%, despite their premium pricing compared to competitive products. This is because CnF use can increase the IRR (internal rate of return) of the wells from 22% to 34%.
Wall Street analysts expect Flotek to become one of the top growth OFS (oilfield equipment and services) companies in 2Q17. Its earnings growth is expected to exceed top OFS companies like Schlumberger (SLB) and Weatherford International (WFT). You can read more about this in Market Realist's Wall Street's 2Q17 Picks: Best and Worst Oilfield Services Stocks.
What are Flotek's technology initiatives?
FTKs management also believes that FTK's core technology will find increasing acceptance as energy operators seek to enhance well economics through technology application. In May 2017, FTK signed an agreement with IBM to begin the joint development of its cognitive reservoir performance system Reservoir Cognitive Consultant. Once developed, the system is expected to help FTK predict and apply custom chemistry and other approaches to enhance well performance.
Notably, Flotek Industries makes up 0.08% of the iShares S&P Small-Cap 600 Value ETF (IJS). IJS has risen 20% in the past year, compared with the 32% fall in IJS.