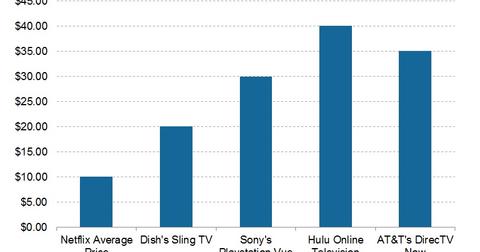 How Is DISH's Sling TV Affecting Its Subscriber Acquisition Costs?
By Shirley Pelts

Updated
DISH Network's Sling TV
As the OTT (over-the-top) space heats up, DISH Network's (DISH) Sling TV has also revamped its service. DISH Network doesn't release its Sling TV subscriber numbers separately from its total pay-TV subscriber base, but it's been speculated that DISH's total Sling TV subscriber base could make up 15% of the company's total subscribers.
Last year, DISH revamped its Sling TV service and introduced two new packages for Sling TV: Sling Orange and Sling Blue. While Sling Orange is a single-screen package priced at $20 per month, Sling Blue is a package for multiple screens that's priced at $25 per month. DISH's Sling TV subscribers also have the option of buying both packages for $40 per month.
Article continues below advertisement
DISH's ARPU and SAC also affected by Sling TV
The rising popularity of DISH Network's Sling TV and its falling pay-TV subscriber base have also affected the company's ARPU (average revenue per user) and SAC (subscriber acquisition costs). DISH expects the fall in its ARPU to continue. Its pay-TV ARPU have fallen 1.6% year-over-year to $86.55.
The reason DISH expects this trend to persist is that as the company's number of Sling TV subscribers rises, these subscribers will likely opt for lower-priced packages compared to its pay-TV subscribers. DISH calculates its ARPU by dividing its average monthly revenue per subscriber by its average pay-TV subscriber base.
Subscriber acquisition costs for a company such as DISH are the costs incurred via its acquisition of new subscribers or retaining its existing ones. DISH also expects a fall in its subscriber acquisition costs because as its Sling TV viewer base rises, the acquisition costs for its Sling TV subscribers will be lower than the acquisition costs for its pay-TV subscribers.