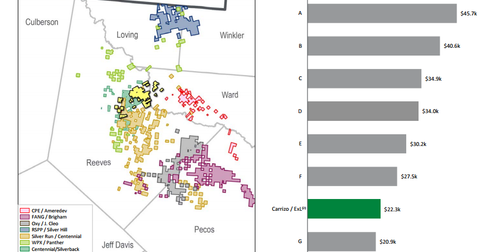 How Is Carrizo Oil & Gas's Recent Delaware Deal Valued?
By Keisha Bandz

Updated
Attractive valuation
As we saw in the previous article, Carrizo Oil & Gas (CRZO) has agreed to pay $648 million to ExL Petroleum Management for acreage in the Delaware Basin.
This price translates into an acreage valuation of ~$22,000 per net acre.
The image above has been taken from Carrizo Oil & Gas's June presentation, and it notes recent acquisitions that took place in the surrounding regions along with their respective acreage valuations. Let's take a look at some of these acquisitions.
Article continues below advertisement
Recent acquisitions and comparative metrics
On January 12, 2017, WPX Energy (WPX) announced that it would be acquiring ~18,000 net acres in the Delaware Basin from Panther Energy Company and Carrier Energy Partners. WPX paid $775 million for the transaction.
Earlier in December 2016, Callon Petroleum (CPE) announced that it had agreed to acquire certain acreage positions from American Resource Development, American Resource Development Upstream, and American Resource Development Midstream, collectively known as Ameredev. The company paid $615 million for these positions.
In October 2016, RSP Permian (RSPP) acquired Silver Hill Energy Partners, which owns acreage positions in the Delaware Basin, for ~$2.4 billion. A few months before that, in July 2016, Diamondback Energy (FANG) purchased ~19,000 acres in the Delaware Basin from Luxe Energy for ~$2.5 billion.
These respective acquisitions and their associated acreages are shown in the image above.
Acreage cost for CRZO second-lowest
According to CRZO's presentation, its recent acquisition cost was the second-lowest, compared to these other deals. The company noted that these deals' transaction values had been adjusted for $35,000 per flowing barrels of oil equivalent per day (or boepd). As a result, these acreage valuations range between $21,000 per acre and $46,000 per acre, or an average of ~$32,000 per acre. As we can see, CRZO's valuation is much lower compared to the average.
The lower price paid supports a theory we explored in an earlier series. We talked about the possibility of an expensive Permian tag causing some producers to test the waters and expand into other plays such as the Eagle Ford, which could result in prices falling in the Permian. You can read more in The Dirt on the Permian Basin: Hot or Not?