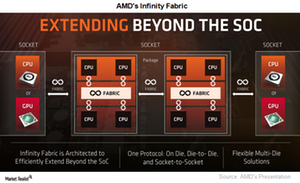 How Infinity Fabric Contributes to AMD's Diversified Portfolio
By Puja Tayal

Jul. 18 2017, Updated 7:35 a.m. ET
Infinity Fabric: AMD's secret behind its diversified portfolio
In the previous part of this series, we saw that Advanced Micro Devices (AMD) is looking to leverage its core CPU (central processing unit) and GPU (graphics processing unit) products across a range of applications. It is also looking to develop custom solutions for specific markets.
At the 2017 Financial Analyst Day, AMD's chief technology officer, Mark Papermaster, stated that there is a huge difference in the computing requirements of a laptop and a server. Although they both need CPU and GPU capabilities, one needs it at a low wattage and another at a high wattage, and one needs it for a specific task and another for generic tasks.
Papermaster stated that AMD has developed "the Infinity Fabric that ties it all together." The company would use Infinity Fabric to link CPUs and GPUs in the EPYC server processor, Ryzen Mobile processor, and future semicustom products. Let's see how Infinity Fabric works.
Article continues below advertisement
A look at AMD's Infinity Fabric 
AMD's Infinity Fabric has been developed along the lines of coherent hyper transport, a parallel high-bandwidth, low-latency interconnect that links CPUs and GPUs efficiently. Infinity Fabric is an enhancement to the coherent hyper transport.
Infinity Fabric is a scalable control fabric that controls all the sensors in a chip. The fabric examines the workload of every chip and manages power supply and frequency accordingly. It also ensures consistent security across all chips. The fabric can establish on-die, die-to-die, and socket-to-socket connections.
Infinity Fabric is flexible to deploy in all types of processors in a standardized way. The fabric enhances bandwidth utilization and optimizes core performance, which helps it improve scale with an increase in the core count.
Infinity Fabric could help AMD integrate its core technologies in various permutations and combinations in a cost-effective manner.
Applications of Infinity Fabric
AMD would use Infinity Fabric to integrate Ryzen Mobile CPUs with Vega GPUs to offer high-performance gaming laptops. The company would also use Infinity Fabric to connect two EPYC server processors in order to deliver scalable server solutions.
NVIDIA (NVDA) uses its NV Link Interconnect to improve the performance of its GPUs. IBM (IBM) is using NV Link to connect its Power8 CPU with NVIDIA's GPU for its server processor.
Next, we'll look at AMD's data center opportunity.