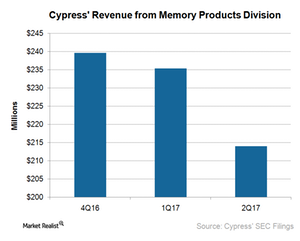 How Has Cypress's Memory Business Performed?
By Puja Tayal

Updated
Cypress's Memory Product division
Cypress Semiconductor (CY) completed its business transition from a silicon supplier to an integrated embedded system supplier in fiscal 2016. It restructured its four business segments based on product type into two business segments based on the system solutions: MPD (Memory Products Division) and MCD (Microcontroller and Connectivity Division).
Cypress's MPD comprises NOR flash and SRAM (static random-access memory), where it is a market leader. It also includes specialty and nonvolatile DIMM (dual in-line memory modules) memory.
Article continues below advertisement
MPD's earnings
MPD's revenues fell 9% sequentially but rose 1% YoY to $214 million in 1Q17, accounting for 40% of the company's revenues. Cypress expects the memory market to decline 2%–5% over the long term. Hence, it is looking to leverage its market leadership and squeeze maximum returns from this declining market.
Cypress reduced its investments and expenses in MPD to focus on its growing MCD business. It has also exited the low-margin memory market to focus on high-margin customized memory solutions for automotive and industrial uses, where demand is more stable. Reduced expenses and higher ASP (average selling price) have made MPD the company's most profitable business.
Intel (INTC) adopted a similar approach with its personal computer business, which generates more than 80% of the company's profits.
Cypress is adopting a structural and opportunistic approach to maximize earnings from its memory business. We'll look into these approaches in the next part of this series.