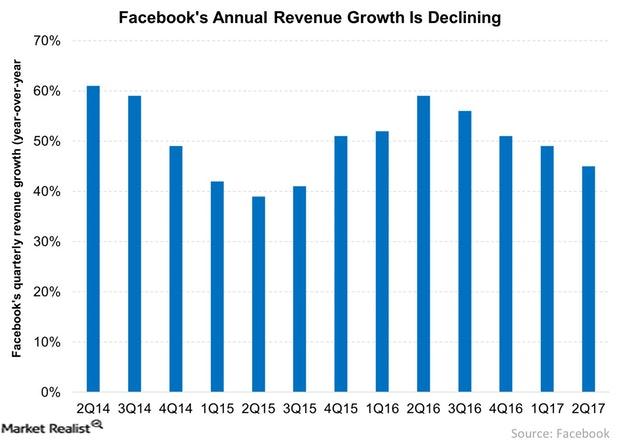 How Facebook Topped Wall Street Revenue Estimates
Facebook revenue growth slows down but beats Wall Street estimates
Facebook (FB) reported its fiscal 2Q17 results on Wednesday, July 26. The company beat Wall Street estimates on all fronts. The social media giant earned $9.3 billion in revenues in the quarter with EPS (earnings per share) of $1.32 per share. Wall Street was expecting revenues to come in at $9.2 billion with EPS of $1.13 per share.
The company's net income soared by a whopping 71% year-over-year (or YoY), while its revenue growth slowed to 44.7% YoY as the graph below shows.
Article continues below advertisement
Facebook's 2Q17 earnings are higher than Alphabet's
In 2Q17, Facebook's bottom line came in higher than that of is larger rival Alphabet. The latter's earnings took a hit due to a fine from the EU's antitrust department. Facebook's ad revenue grew at more than twice the rate of its rival Google (GOOG) (GOOGL), which came out with its quarterly results earlier this week. However, Google is still by far the leader in the digital ads segment, according to eMarketer.
Facebook revenue growth has slowed down as it runs out of space in its news feed section. However, the company still has other avenues to boost growth, as we'll discuss in the next part of the series.
The company's earnings growth was driven by a surge in sales of mobile video ads. The company has been displaying more video ads in its app, as consumers have been increasingly accessing the Internet through their smartphones.
The company's stock, which has already surged by 44% year-to-date (or YTD), rose 3.7% in after-hours trading as the social media giant slashed its full-year capital expenditure guidance. Facebook said it may come in at the lower end of the previous guidance of $7 billion to $7.5 billion.