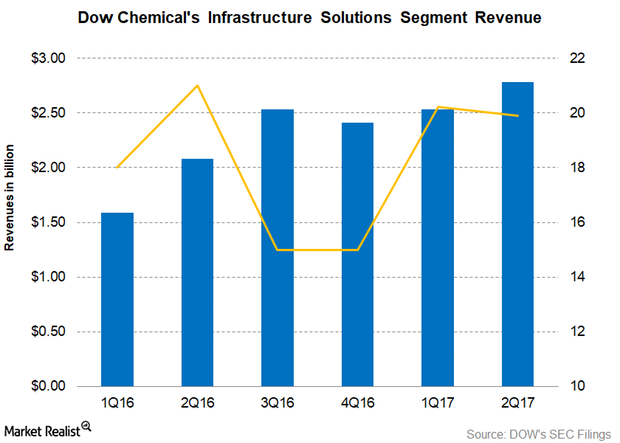 How Did DOW's Infrastructure Solutions Segment Perform in 2Q17?
Dow Chemical's Infrastructure Solutions segment in 2Q17
Dow Chemical's (DOW) Infrastructure Solutions segment is the second largest revenue generator for DOW. This segment accounted for 20.2% of DOW's total revenue in 2Q17 as compared to 17.4% in 2Q16. The segment reported revenue of $2.8 billion, an increase of 33.6% on a year-over-year basis. In 2Q16, the revenues reported for this segment stood at $2.1 billion.
The segment revenue grew primarily because of the addition of the silicones business from the DOW-Corning (GLW) joint venture. DOW acquired the remaining stake in the joint venture in June 2016. Excluding this acquisition, the segment saw organic growth of 7% across all businesses and all geographies with the exception of Latin America. Further, the segment's revenue grew because of higher pricing in the Coating Materials business and the Performance Monomers business.
Article continues below advertisement
Segment EBITDA and margins
With the addition of the silicones business, the segment's EBITDA (earnings before interests, taxes, depreciation, and amortization) for 2Q17 was reported at $556 million as compared to $432 million in 2Q16, an increase of 28.7% on a year-over-year basis. However, higher raw materials costs and the company's inability to pass costs on to customers have resulted in lower margins. The segment reported an operating margin of 19.9% compared to 21% in 2Q16, a decrease of 110 basis points on a year-over-year basis.
Outlook
The segment growth is expected to continue supported by volume and price increases. DOW may seek an opportunity to increase the price due to the increase in the raw material costs.
Investors can hold Dow Chemical indirectly by investing in the ProShares Ultra Basic Materials (UYM), which invests 7.7% of its portfolio in DOW. The other holdings of the fund include DuPont (DD) and Monsanto (MON), which have weights of 7.6% and 5.3%, respectively, as of July 27, 2017.
In the next part, we'll look into DOW's Performance Materials and Chemicals segment in 2Q17.