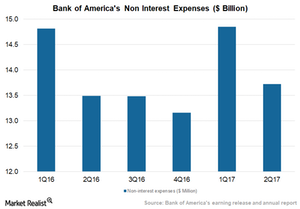 How Bank of America Is Improving Its Operating Efficiency
By Robert Karr

Jul. 26 2017, Updated 9:36 a.m. ET
High margins with controlled spending
Bank of America's (BAC) non-interest expenses declined sequentially, but they rose marginally to ~$13.7 billion in 2Q17, compared to ~$13.5 billion in 2Q16. These expenses included $0.4 billion in impairment charges for data centers in the process of being sold, severance costs, and higher FDIC expenses. These expenses were partially offset by lower litigation and other operating costs. 
The bank's non-personnel expenses rose to $6.0 billion from $5.8 billion on a YoY basis, and its personnel expenses remained flat at $7.7 billion. Sequentially, its expenses declined, as its 1Q17 expenses included $1.4 billion in annual retirement eligible incentives and seasonally elevated personnel costs.
Commercial banks (XLF) have continued improving their efficiencies, a practice deployed during an era of zero rates and lower margins. Among the major bankers, Wells Fargo's (WFC) efficiency declined in 2Q17, whereas JPMorgan Chase (JPM) and Citigroup (C) saw improved efficiency.
Article continues below advertisement
Efficiency ratio
Bank of America (BAC) achieved an operating leverage of 500 basis points in 2Q17. It garnered a 60% efficiency ratio, compared to 63% in 2Q16 and 67% in 1Q17. An efficiency ratio is calculated as the percentage of operating expenses divided by net revenues.
Bank of America's headcount fell 2% to 210,900, mostly due to a sale of non-US credit card business and optimization in its Consumer Banking business. This decline was partially offset by hiring in primary sales roles. The bank has kept a target of $53 billion for non-interest expenses in 2017, a reduction of $2 billion from the previous year. The bank can manage an improved efficiency ratio of 63% for the full year.
Among its divisions, Consumer Banking saw an improved efficiency ratio of 52%. The Wealth Management division's ratio improved to 72%, and the Global Banking division's efficiency ratio improved to 43%. However, the Global Market division's ratio deteriorated to 67%, mostly due to lower trading activity.