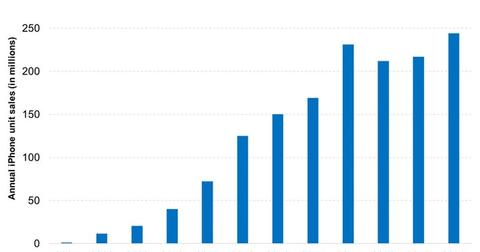 How an iPhone 8 Launch Delay Could Affect Apple
By Sanmit Amin

Updated
Why the iPhone launch could be delayed
Apple (AAPL) will be launching three iPhone versions instead of two this year—the iPhone 8, iPhone 7s Plus, and iPhone 7s. These are likely to be the fastest ever due to their 10-nm (nanometer) A11 chips. However, the delay of components critical to the iPhone's performance is likely to cause a delay in the launch, according to MacRumors.
The iPhone 8 is likely to see delays because of components that may be harder to make. These include the camera's 3D depth sensor and the new OLED (organic light-emitting diode) display. It will be charged by placing it on a charging plate and will not need wires to charge the handset.
Some of the features that Apple is struggling with have already been implemented in some Android smartphones. These include the dual camera on the OnePlus 5 and facial recognition on the Galaxy S8.
Article continues below advertisement
Will the delay affect iPhone sales?
Apple stocks have risen 29% year-to-date, as investors are expecting a "supercycle." However, analysts are warning that Apple's projections for the last quarter of the calendar year could be underwhelming due to the potential launch delay. Typically, Apple launches iPhones in September. However, according to Morgan Stanley, the three models may be launched in October.
As the graph above shows, calendar 2016 was the first time iPhone unit sales fell on an annual basis. According to FactSet's projections, annual iPhone sales are likely to see a small uptick this calendar year, and then surge in 2018. The loss of unit sales in 2017 is likely to be compensated for in 2018.