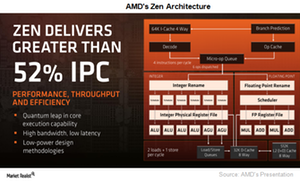 How AMD's Zen Is Different from Intel's Core
By Puja Tayal

Jul. 12 2017, Updated 7:38 a.m. ET
AMD focuses on core architecture
As Moore's law slows, Advanced Micro Devices (AMD) is looking to enhance the performance of its chips through architecture design, integrated hardware, and software support. AMD has reformed its R&D (research and development) approach under which it would focus on developing CPU (central processing unit) and GPU (graphics processing unit) architecture that can be used for almost all computing applications.
NVIDIA (NVDA) adopts a similar approach for its GPU architecture, which it optimizes across gaming, machine learning, professional visualization, and automotive applications.
Article continues below advertisement
Zen architecture at a glance
After four years of development, AMD launched its Zen architecture in 2017. At its 2017 Financial Analyst Day, AMD's chief technology officer, Mark Papermaster, gave insights on the company's Zen architecture and explained how it outpaces its competitors.
A CPU's workflow can be divided into three steps: receiving instruction, processing data, and executing the instruction. AMD has built a Perceptron engine inside Zen that receives instructions with greater accuracy, which improves the accuracy of branch prediction. It also inserted a micro-op cache to efficiently dispatch instructions to the pipelines.
AMD has also revamped its cache subsystem. The company increased the cache size by adding a dedicated L3 cache and advanced memory pre-fetch algorithms. This cache subsystem scans the strides of data, its patterns, and fetches the right data at the right time at the right place.
AMD noted that all these processes need to be executed faster. As a result, AMD added simultaneous multithreading, which improved Zen's IPC (instructions per cycle) by 52% compared to its predecessor. The multithreading performance is Zen's key feature that puts it above Intel's (INTC) equivalent core processors.
Article continues below advertisement
Zen a leader in multithreading performance
Multithreading tasks play a significant role when a user is waiting for an instruction to be completed and wants to flip over to a new thread to perform another instruction. Simultaneous multithreading effectively doubles the number of threads, allowing the user to perform multiple instructions at the same time. 
Simultaneous multithreading doubles the number of cores that enable the operating system to complete a task. This capability significantly improves the performance per clock tick.
Zen's performance per watt 
A processor's performance is calculated not only with its speed and accuracy but also with its power efficiency. AMD designed its Zen architecture in such a way that its performance per watt improved 270% compared to its predecessor.
Zen architecture design includes multithreading and multi-op cache that optimizes power consumption.
AMD built Zen on a smaller 14nm (nanometer) FinFET (fin field effect transistor) node, which brought more transistors on a smaller die size, making the chip denser and more power-efficient.
AMD added Pure Power technology in Zen. When a program is running and there are certain elements of the chips that are not in use, Pure Power automatically shuts them down, thereby saving power.
AMD is leveraging Zen's flexible performance to tap the overall PC market. We'll look into this in the next part.