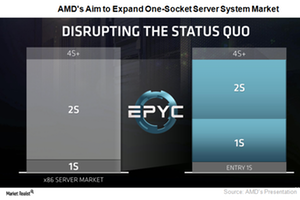 How AMD's EPYC Fares against Intel's Xeon
By Puja Tayal

Jul. 17 2017, Updated 8:05 a.m. ET
AMD's EPYC versus Intel's Xeon processor
In the previous part of this series, we saw that Advanced Micro Devices (AMD) is offering higher memory bandwidth in its EPYC processor to enhance a server's performance. AMD is offering full memory bandwidth and security on a balanced system to optimize the cores and deliver better performance than Intel's server processors, resulting in refrained capability.
At the 2017 Financial Analyst Day, AMD's general manager of the Enterprise, Embedded, and Semi-Custom Business Group, Forrest Norrod, demonstrated the performance of the EPYC processor. In the demonstration, eight VMs (virtual machines) were run on each server. One server was powered by AMD's EPYC, and another server was powered by Intel's (INTC) highest-end Xeon 2699A server.
These multiple-core VMs were compiling the Ubuntu Linux kernel, a highly compute-bound workload for a VM. The demonstration showed that AMD's EPYC completed the task in 15.7 seconds, and Intel's 2699A completed it in 22 seconds. 
EPYC performed better than Intel's Broadwell server process. Intel is set to launch the Skylake server processor in 2017. AMD expects EPYC to be competitive with Skylake.
Article continues below advertisement
AMD looks to disrupt the server market status quo
According to AMD, 80% of the x86 server processors sold in 2016 were dual-socket server processors. The company is looking to disrupt this status quo and increase the share of single-socket server systems. It plans to do so by offering an unrestrained EPYC processor.
Intel can deactivate some features of a server processor based on the price band in which it falls. AMD plans to offer these features in full capacity in all EPYC processors. These features include all I/O (input/output) channels, all memory channels, high-speed memory support, reliability features, and a complete security stack.
These unrestrained features would offer consumers the capability of a true server regardless of the performance level. This would help users, who would have purchased the two-socket platform only for memory bandwidth, switch to the single-socket platform. This would improve performance and power efficiency and reduce the total cost of ownership.
Although Qualcomm (QCOM) has also entered the server processor market, AMD is better positioned to compete with Intel. Next, we'll see how these new products could impact AMD's earnings.