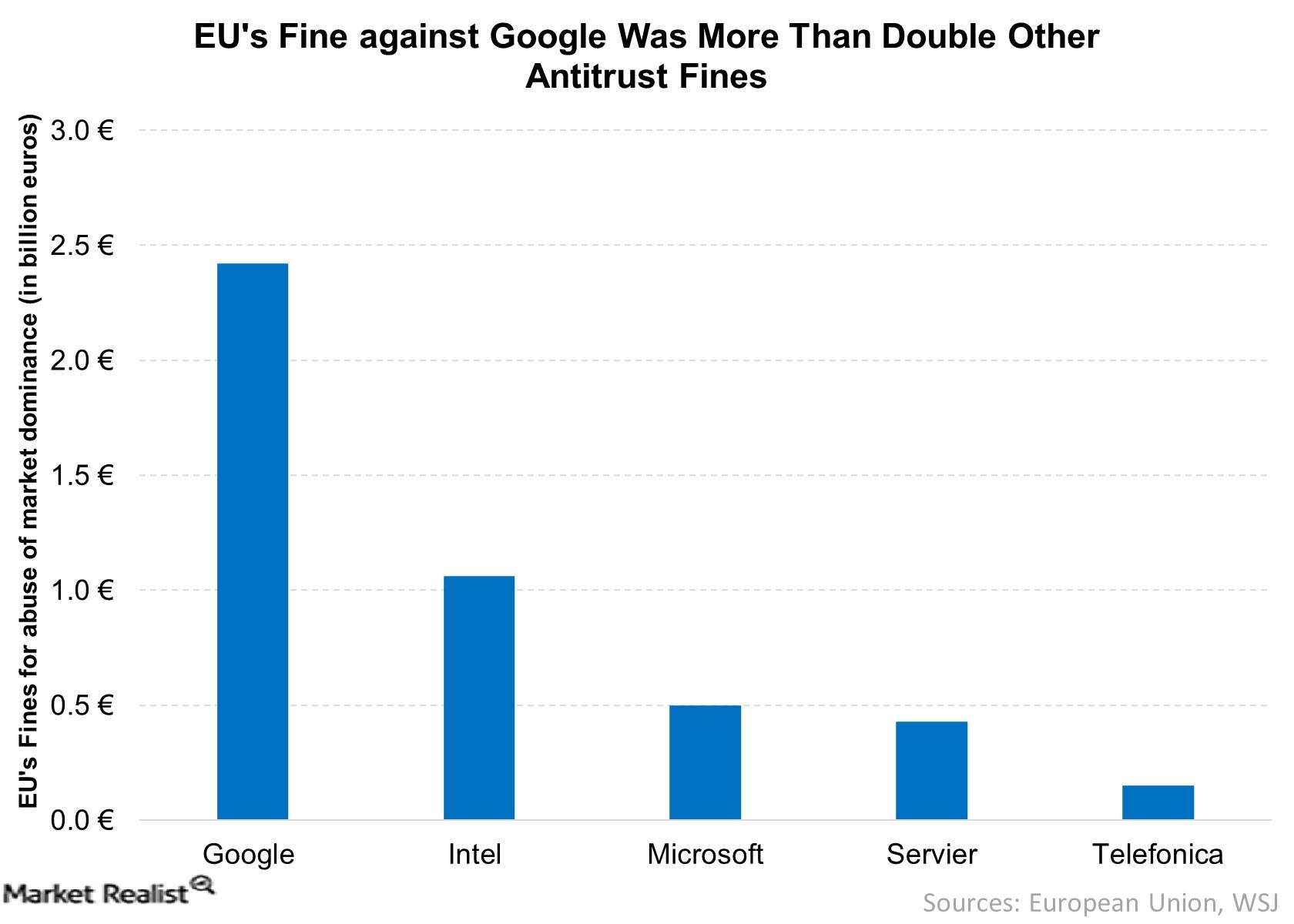 Google Faces Pressure in the EU and United States
EU slapped Google with an antitrust fine
The European Commission fined Google (GOOGL) ~$2.7 billion, on June 27, 2017, for abusing its monopoly. The European Union regulators said that the decision set a standard for future cases.
According to the European Commission, Google (GOOG) has allegedly unfairly favored its own comparison-shopping service over other merchants' services. These merchants pay Google each time its ad is clicked. Google's competitors have experienced plummeting traffic over the years.
Google has prospered by launching new services on its popular search engine, which has made finding information easier.
Google is a de facto monopoly, as its market share in Europe is over 90%. The fact that it is a near-monopoly is not a bad thing in itself. However, the EU antitrust law applies when monopolies manipulate markets unfairly for their advantage.
Article continues below advertisement
Why American companies are lobbying against Google
Interestingly, it is American companies—including Microsoft (MSFT), Oracle (ORCL), Trip Advisor, and Yelp—and not European companies that are lobbying against Google. They claimed that when users "googled" restaurants, plumbers, and other services, the Alphabet unit put its own Google-branded ratings well above those of competitors such as TripAdvisor and Yelp.
Google would also feature quotes from sites like TripAdvisor and Yelp on its own site. This action could lead users to avoid visiting these sites, depriving these sites of ad revenues. This meant that the search engine was absorbing its competitors' ad revenues.
The $2.7 billion fine comprises just 3% of Google's cash. However, the company could face more fines from the EU. If Google doesn't comply within 90 days, the EU may start imposing a fine of 5% of daily revenues.