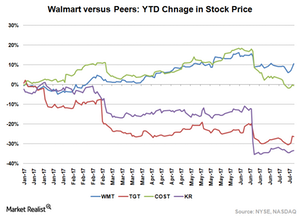 Why Goldman Sachs Upgraded Walmart Stock
Goldman Sachs upgraded Walmart
Recently, Goldman Sachs upgraded Walmart (WMT) stock to a "buy" from "neutral" and increased its target price to $84.00 from $78.00. Analyst Matthew Fassler stated that Walmart's scale, investments made into its e-commerce arm, and strong foothold in small markets (rural areas) position it well among other retailers to combat the growing threat from Amazon (AMZN). Walmart stock rose 2% and closed at $76.34 last Friday, which reflected upside of 10% to the current 12-month target price from Goldman Sachs.
Article continues below advertisement
Grocery retailers' stock prices nosedived following Amazon's announcement of the Whole Foods (WFM) acquisition. Target (TGT), Kroger (KR), Walmart, and Costco (COST) saw their stock take a beating over the last month. However, in our earlier series on mass merchandisers, we discussed that investors might have overreacted on Walmart stock. The recent upgrade from Goldman Sach supported that fact.
Taking a closer look
Grocery retail has always been a highly competitive space. Due to changing retail dynamics, things have only got worse. Consumers' shift towards online shopping, an increased threat from German discount stores Aldi and Lidl, Amazon's expansion, and continued deflation in the food category are impacting brick and mortar retailers' profit.
However, Walmart made upfront investments to turn around its business over the last few years. Lower pricing, remodeling existing stores, and focusing on the digital arm of its business helped the company generate higher sales and better store traffic. Walmart's strong balance sheet will allow it to scale up investments in its digital arm in upcoming quarters. Walmart's ability to attract third party vendors to its e-commerce platforms positions it well among other grocery retailers. Walmart is somewhat immune to growing competition.
Also, on the grocery front, Walmart's productivity measures led to a reduction in supply chain days, which resulted in fresher food. The company expanded its online grocery service to more than 700 stores. Its online service offers convenience and low prices, which act as a catalyst to win consumers and drive store traffic. Notably, Walmart managed to generate positive comps in its US (SPY) segment for ten consecutive quarters due to restructuring initiatives.
In the next part, we'll discuss analysts' current recommendations for Walmart stock.