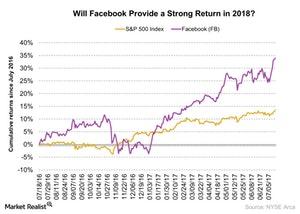 Goldman Sachs on Facebook: Annual Sales Growth to Improve 32%
Goldman Sachs on Facebook
The investment firm estimated that Facebook's annual sales growth could improve by 32% from 2016 to 2019. The expected improvement in sales growth signifies that we could see rising technology (XLK) demand in the future. Facebook's advertising business added more value to its overall sales growth in 1Q17.
Article continues below advertisement
According to Facebook's SEC filings, advertisement sales constitute nearly 97.9% of its overall sales in 1Q17. Facebook posted overall revenue of $8.0 billion in 1Q17, and advertisement revenue stood at $7.9 billion. Facebook's non-advertisement business posted a revenue of $175.0 million in 1Q17. However, on a yearly basis, it posted a slowdown of 3% in non-advertisement revenue.
Facebook's performance
Facebook has provided a strong return so far this year. On a year-to-date basis, it returned nearly 37% as of July 14, 2017. The broader market S&P 500 Index (SPY) (QQQ) (IWM) returned nearly 8.9% during the same period. Facebook is trading at $159.97, near its 52-week high of $160.32. The stock returned nearly 76% in the past two years. The stock is currently trading at a price-to-earnings multiple of 40.67x.
In the next part of this series, we'll analyze the performance of Amazon (AMZN).