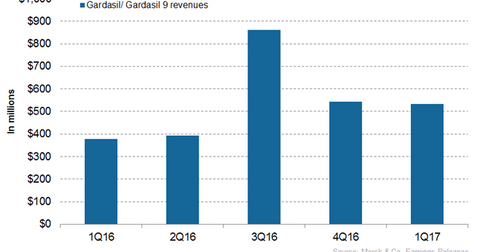 Gardasil Could Boost Merck's Revenue Growth
By Daniel Collins

Jul. 20 2017, Updated 8:06 a.m. ET
Gardasil's revenue trends
In 2016, Merck's (MRK) Gardasil reported revenues of ~$2.2 billion, which reflected an ~14% year-over-year (or YoY) revenue growth. In 1Q17, Gardasil generated revenues of around $532 million, which reflected an ~41% growth on a YoY basis and ~2% on a quarter-over-quarter basis.
The company witnessed sales growth in the US of ~25% YoY, driven by increased demand and timing of the Centers for Disease Control and Prevention (or CDC) purchases of around $45 million. The dissolving of Merck's joint venture with Sanofi (SNY) in December 2016 contributed to another $50 million in sales growth in 1Q17.
The growth in sales of Gardasil could boost the SPDR Dow Jones Industrial Average ETF (DIA). Merck comprises ~2.0% of DIA's total portfolio holdings. Merck's peer in the vaccine market, Johnson & Johnson (JNJ), constitutes ~4.1% of DIA's total portfolio holdings.
The chart above characterizes the revenue trajectory of Gardasil/Gardasil 9 from 1Q16 to 1Q17. To learn more about Gardasil, please read Gardasil and Merck's Vaccines Business in 1Q17.
Article continues below advertisement
About Gardasil
Gardasil is a vaccine used for the prevention of human papillomavirus (or HPV) infection. Currently, Gardasil 9 is the only vaccine marketed that helps in the protection against nine types of HPV. The vaccine can be used in both males and females between ages of nine and 26 for the prevention of cervical, vulvar, vaginal, and anal cancer due to various HPV (types 16, 18, 31, 33, 45, 52, and 58) infections, as well as genital warts triggered by HPV types 6 and 11.
The vaccine is also used for the prevention of precancerous and dysplastic lesions triggered by different HPV types such as cervical intraepithelial neoplasia, cervical intraepithelial neoplasia, vulvar intraepithelial neoplasia, vaginal intraepithelial neoplasia, and anal intraepithelial neoplasia in females, as well as anal intraepithelial neoplasia in males. Merck's Gardasil faces stiff competition from GlaxoSmithKline's (GSK) Cervarix.