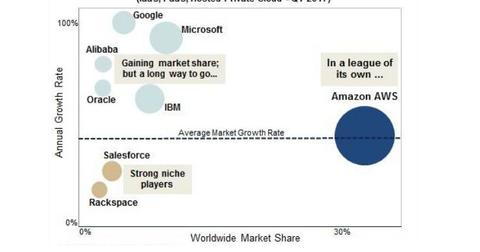 For Amazon, Consequences Of Touching A Raw Nerve
By Neha Gupta

Updated
Amazon has created crises for retailers
Reports that Wal-Mart (WMT) is trying to stoke a revolt against Amazon's (AMZN) Amazon Web Services (or AWS) highlight the risk of stepping on too many toes. Amazon, which first turned the world upside down for bookstores, has steadily worked its way up the retail ladder to the point that it has made victims of many legacy retailers.
Retailers such as Wal-Mart, Target (TGT), and Best Buy (BBY) aren't happy with what Amazon has done to them. Because of Amazon, their sales have plummeted, and they have had to close stores and retrench workers—and the future still looks bleak. Amazon's delivery infrastructure expansion, with plans to use drones to deliver packages, could leave many of these retailers gasping for breath.
Article continues below advertisement
Amazon could rattle package transporters
Trying to undercut lethal competitor
The Amazon-Whole Foods deal may have led Wal-Mart and others to say they have had enough of Amazon's disruption. As retailers worry about what to expect in grocery competition as Amazon and Whole Foods unite, Microsoft (MSFT) sees the possibility of losing a major cloud customer. Whole Foods uses Microsoft's Azure cloud. Amazon could switch it to AWS once the deal is closed. As the above chart shows, Amazon is the dominant public cloud vendor, according to Synergy Research Group.