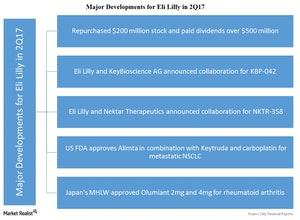 Eli Lilly's Major Developments in 2Q17
Recent developments
Eli Lilly and Company's (LLY) segmental performance in 2Q17 was positive for its Human Pharmaceuticals segment. But it was negative for its Animal Health segment. Let's look now at Eli Lilly's major developments in 2Q17.
Article continues below advertisement
Commercial developments
Recent commercial developments for Eli Lilly include the following:
Eli Lilly repurchased shares worth $200.0 million and distributed dividends of more than $500.0 million to its shareholders in 2Q17.
Eli Lilly and KeyBioscience AG announced a collaboration for the development of a dual amylin and calcitonin receptor agonist for the treatment of metabolic disorders, including Type 2 diabetes. The collaboration includes KBP-042, which is in Phase II development. Eli Lilly will make a payment of $55.0 million in 3Q17.
Eli Lilly and Nektar Therapeutics entered into a co-development agreement for NKTR-358, which is an investigational treatment for autoimmune and chronic inflammatory conditions. Eli Lilly will pay Nektar Therapeutics ~$150.0 million for the drug upon closing the transaction.
Regulatory developments
Below are the recent regulatory developments for Eli Lilly:
The FDA (U.S. Food & Drug Administration) granted priority review to abemaciclib for use in the treatment of metastatic breast cancer, based on the results from the Monarch 1 and Monarch 2 studies.
The FDA also approved the use of Alimta in combination with Merck & Co.'s (MRK) Keytruda and carboplatin as a first-line treatment for patients with metastatic non-small cell lung cancer.
The FDA granted fast track designation for tanezumab. The drug, co-developed with Pfizer (PFE), is indicated for the treatment of patients with osteoarthritis and chronic lower back pain.
Japan's Ministry of Health, Labour, and Welfare granted marketing authorization for the new drug Olumiant (baricitinib) 2 mg (milligram) and 4 mg tablets for the treatment of rheumatoid arthritis.