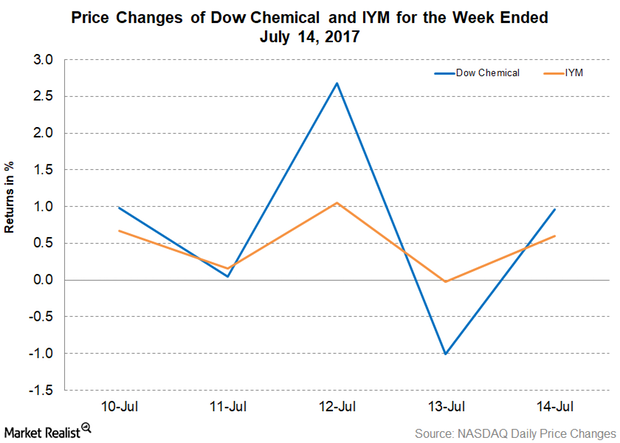 Dow Chemical Is about to Sell Something Big in Brazil
DOW's corn hybrid seed business
In yet another move to ensure the merger between Dow Chemical (DOW) and DuPont (DD), DOW announced the sale of its corn hybrid seed business in Brazil to CITIC Agri Fund. The agreement should fetch DOW $1.1 billion.
The sale includes seed processing plants, a Brazilian corn germplasm bank, the Morgan seed brand, the license to use DOW Sementes brand for some time, and several seed research centers. This business reported revenues of $287 million in fiscal 2016.
The divestiture was required to satisfy Brazil's CADE (Administrative Council for Economic Defense) requirement to get the regulatory clearance for the proposed merger with DuPont.
DOW Chairman and CEO (chief executive officer) Andrew Liveris stated: "Today's announcement further advances the regulatory approval process, and maintains the strategic logic and value creation potential of our merger with DuPont and the three independent companies we intend to create."
Article continues below advertisement
DOW stock on a roll
DOW's stock price steamed up last week (ended July 14, 2017), closing at $66.24 and gaining 3.7%. It outperformed the iShares US Basic Materials ETF (IYM), which returned 2.5% for the week.
These gains helped DOW trade 4.9% above its 100-day moving average price of $63.16, indicating a bullishness toward the stock. Analysts are now expecting DOW's target price to be $72.22, implying a potential return of 9.0% from its closing price of $66.24 on July 14, 2017. To date in 2017, DOW has gained 15.8%. DOW's RSI (relative strength index) of 64 indicates that the stock is neither overbought nor oversold.
Investors can invest in IYM and hold DOW indirectly. IYM has 12.0% of its portfolio in DOW. The other holdings of the fund include Monsanto (MON), and Praxair (PX), which had weights of 8.3% and 6.2%, respectively, on July 14, 2017.