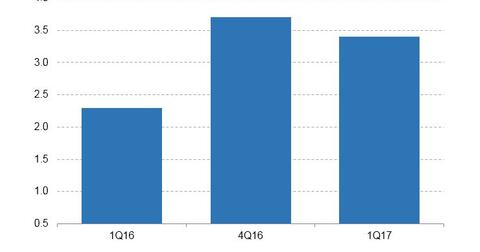 Did Uber Steal Alphabet's Documents?
By Neha Gupta

Updated
Battle over autonomous driving technology
Alphabet (GOOGL) has spent years and possibly billions of dollars to develop its autonomous car driving technology, and it made an early move in what had appeared at the time to be a high-stakes gamble. Several companies have now seen the prospects of autonomous driving and have joined the race.
Uber, a one-time Alphabet ally, is now one of the companies developing autonomous driving systems and has become Alphabet's foe. Others competitors include Tesla (TSLA), Apple (AAPL), Ford Motor (F), and General Motors (GM).
Article continues below advertisement
Alphabet's Waymo and Uber are now embroiled in a bitter legal battle over the ownership of vital autonomous car driving technology. Waymo has sued Uber for allegedly stealing its technology. According to Waymo, Uber hired a former employee, Anthony Levandowski, who stole thousands of documents from Waymo before leaving.
Uber links document theft to a $120-million bonus
Uber has long denied wrongdoing in Waymo's document theft complaint. In a recent filing, Uber stated that it wasn't to blame for Levandowski's carting away of Waymo's documents. Instead, Uber argues that Levandowski carried away the documents Waymo claims he stole because he feared Waymo might not release his $120-million bonus in full.
Waymo means a lot to Alphabet's future
Alphabet seems hopeful that autonomous driving will wean it off its reliance on advertising sales. If Waymo succeeds in getting Uber barred from developing autonomous driving systems, Alphabet would have reduced its competition in a market where revenues are forecast to exceed $77.0 billion by 2035, according to Boston Consulting Group. And Alphabet needs billions to grow its non-advertising operations.