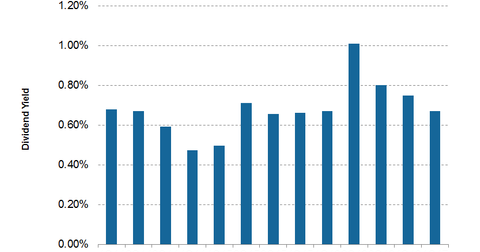 Could Southwest Airlines Increase Dividend Payouts in 2Q17?
By Ally Schmidt

Updated
Consistent dividends
Southwest Airlines (LUV) has been profitable for more than ten years, a big feat in an industry that's known to be the destroyer of capital. It has used this profitability to return capital to shareholders and has been consistently paying dividends since 1980. On the other hand, most of its peers don't pay dividends at all. Those that do pay dividends just started recently.
Article continues below advertisement
Dividend yield
LUV has one of the lowest dividend yields among its peers that pay dividends. LUV's indicated dividend yield stands at 0.67%. American Airlines (AAL) has an indicated dividend yield of 0.81%. Alaska Air (ALK) boasts the second-highest indicated dividend yield of 1.3%. Delta Air Lines (DAL) has the highest indicated dividend yield of 2.0%.
Cash dividend ratio
Southwest Airlines' cash dividend ratio stood at 8.7x at the end of 1Q17, indicating LUV's ability to sustain dividend payouts. The ratio is lower than AAL's at 17.3x but higher than DAL's at 6.0x and ALK's at 6.2x. A ratio of less than 1.0x indicates dividend payouts higher than the company's cash flows, which may be difficult to sustain in the future.
Outlook
Southwest Airlines has continuously increased dividend payouts in the second quarter of every year. Below are the dividend increases from 2012 to 2016:
2012: increase of 50.0% to $0.02
2013: increase of 333.0% to $0.13
2014: increase of 69.0% to $0.22
2015: increase of 27.0% to $0.28
2016: increase of 25.0%
We could see LUV dividends rise in 2Q17.
You can gain exposure to Southwest Airlines by investing in the iShares Russell Mid-Cap (IWR), which holds approximately 0.50% in Southwest Airlines.