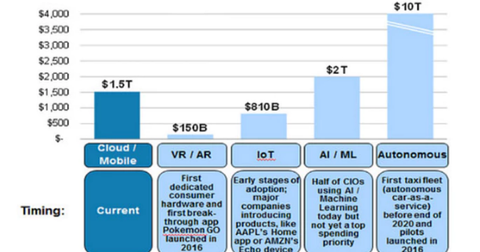 Could IBM Stock Rise after the Company's Fiscal 2Q17 Release?
By Anne Shields

Updated
Mounting pressure on IBM to report growth
So far in this series, we've discussed the expectations for IBM's (IBM) fiscal 2Q17 results. We also shared some views on IBM's success in the cloud space.
It has been five years since IBM has reported revenue growth. With each passing quarter, investors and the market expect IBM to break the trend and report much-awaited revenue growth. Fiscal 2Q17, for which the results are scheduled to be announced next week, is no exception. The company's Strategic Imperatives segment will be closely scrutinized for insight into IBM's path to growth. Although IBM's Strategic Imperatives segment has continued to grow, this growth has not been sufficient to make up for the weakness in its traditional businesses.

Article continues below advertisement
IBM's initiatives to boost Strategic Imperatives
As expected, IBM is taking several initiatives to boost its Strategic Imperatives segment, in hopes that it can make up for the weakness in its traditional businesses and put the company on the path to growth. To establish itself further in the blockchain technology and digitalized world, IBM (IBM) announced the building of a blockchain-based platform for seven prominent European (EFA) banks last month. SeekingAlpha described this project as "one of the first real-world use cases of blockchain technology for financial institutions."
IBM's blockchain offerings are based on its cloud as a service business, which grew 60% in fiscal 1Q17. If its cloud offerings, as well as the entire Strategic Imperative segment, continue to post double-digit growth, market sentiment is likely to improve. This improved sentiment could provide a stimulus to IBM's stock, which has fallen ~13% since the beginning of 2017.
To boost its Strategic Imperatives segment, IBM is investing in areas such as AI (artificial intelligence), machine learning, VR (virtual reality), AR (augmented reality), the IoT (Internet of Things), and autonomous vehicles. These areas are expected to drive $13 trillion in spending in the next computing cycle.