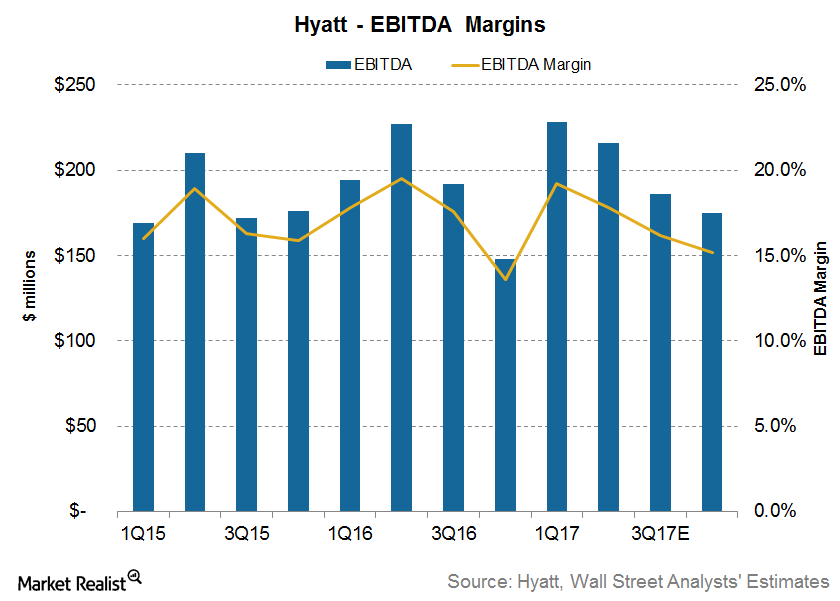 Could Hyatt's Revenue Growth Translate to Profit Growth?
By Ally Schmidt

Jul. 28 2017, Updated 10:38 a.m. ET
Analyst estimates
In 2Q17, analysts expect Hyatt's (H) EBITDA (earnings before interest, tax, depreciation, and amortization) to fall 4.9% YoY (year-over-year) to $215.9 million. EBITDA are expected to fall another 3.0% YoY in the third quarter to $186.3 million. Growth is expected to resume in the fourth quarter, with EBITDA rising 18.1% YoY to $174.9 million.
Most of this growth is expected to be driven by revenue growth. EBITDA margins are expected to narrow in all quarters but 4Q17. In the second quarter, EBITDA margins are expected to narrow to 17.8% from 19.5% in 2Q16. In 3Q17, EBITDA margins are expected to narrow to 16.2% from 17.6% in 3Q16. In 4Q17, EBITDA margins are expected to improve to 15.2% from 13.6% in 4Q16. In 2017, EBITDA growth of 5.8% YoY to $805.1 million is expected, with an EBITDA margin of 17.1%.
Article continues below advertisement
Outlook
In fiscal 2017, Hyatt continues to expect EBITDA growth of ~3%–7% YoY in constant currency terms, which will lead to adjusted EBITDA of ~$769 million–$804 million. In these estimates, Hyatt has also included a foreign currency loss to the tune of $10 million–$15 million.
However, the company has revised its previous net income guidance. It now expects net income of $123 million–$159 million, compared with the earlier expectation of $130 million–$166 million. This lower expectation is due to higher interest and depreciation costs. Interest costs are now expected to be ~$83 million, rather than ~$77 million. Depreciation costs are expected to be $376 million–$380 million, compared with the original estimate of $370 million–$374 million.
Investors can gain exposure to the hotel sector by investing in the First Trust Consumer Discretionary AlphaDEX ETF (FXD), which invests approximately 15% of its portfolio in the hotel, restaurant, and leisure sector. It has a 1.1% exposure to Wyndham Worldwide (WYN), a 0.55% exposure to Hyatt (H), a 0.9% exposure to Hilton Worldwide Holdings (HLT), and a 1.2% exposure to Marriott International (MAR).