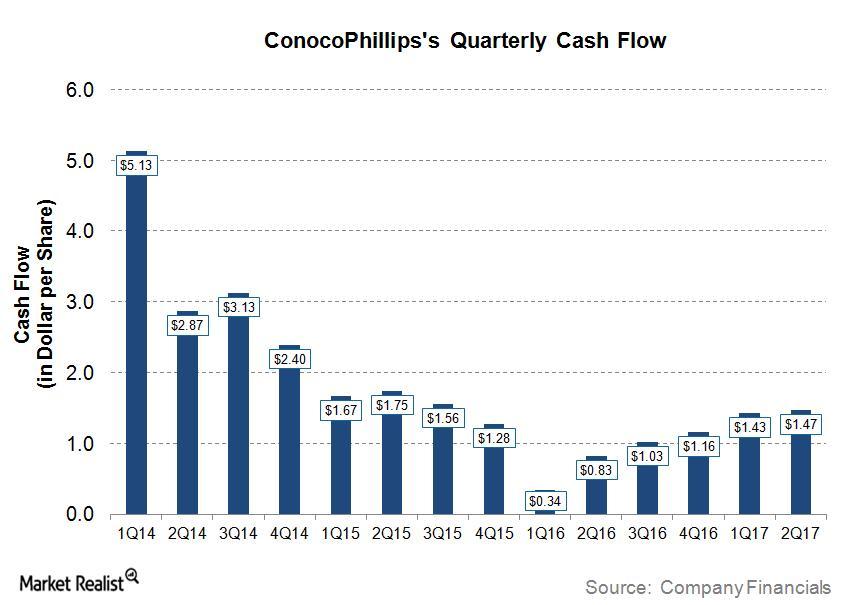 ConocoPhillips' Cash Flow in 2Q17: Why the Rise?
Operating cash flow
For 2Q17, ConocoPhillips (COP) reported operating cash flow of $1.75 billion, which is ~39% higher compared with Wall Street analysts' expectation for $1.58 billion in cash flow. On a year-over-year basis, COP's 2Q17 cash flow is ~39% higher from ~$1.26 billion in 2Q16.
Article continues below advertisement
Declining operating cash flow
ConocoPhillips has reported declining cash flows from 2Q14 to 1Q16, mainly due to lower realized crude oil (USO), natural gas (UNG), and natural gas liquids prices. In fiscal 2015, ConocoPhillips reported much lower cash flows compared with preceding years. In 1Q16, ConocoPhillips reported its lowest-ever cash flow of ~$421 million. But since then, ConocoPhillips's cash flows are rising steadily every quarter. On a sequential basis, COP's 2Q17 cash flow is lower than its ~$1.79 billion in 1Q17.
Free cash flow
In 2Q17, ConocoPhillips spent $1.02 billion in capital expenditures, meaning COP's free cash flow is positive at $731 million, or ~$0.59 per share.
Article continues below advertisement
Capital expenditure guidance
In its 2Q17 earnings press release, ConocoPhillips lowered its fiscal 2017 capital expenditures guidance. COP now expects its fiscal 2017 capital expenditures to be $200 million lower than its original capital expenditures guidance of $5 billion for fiscal 2017. COP's new fiscal 2017 capital expenditure guidance of $4.8 billion is marginally lower by $100 million, compared with COP's fiscal 2016 capital expenditures of $4.9 billion.
ConocoPhillips reduced its capital expenditure guidance mainly due to its Canadian, San Juan, and Bakken asset sales in 1H16. However, despite removing ~400 Mboepd (thousand barrels of oil equivalent per day) of expected 2017 production due to these divestitures, COP's capital expenditures guidance fell marginally. One reason could be that COP plans to increase its focus on the short-cycle unconventional program to make up for the production loss after the close of these divestitures.