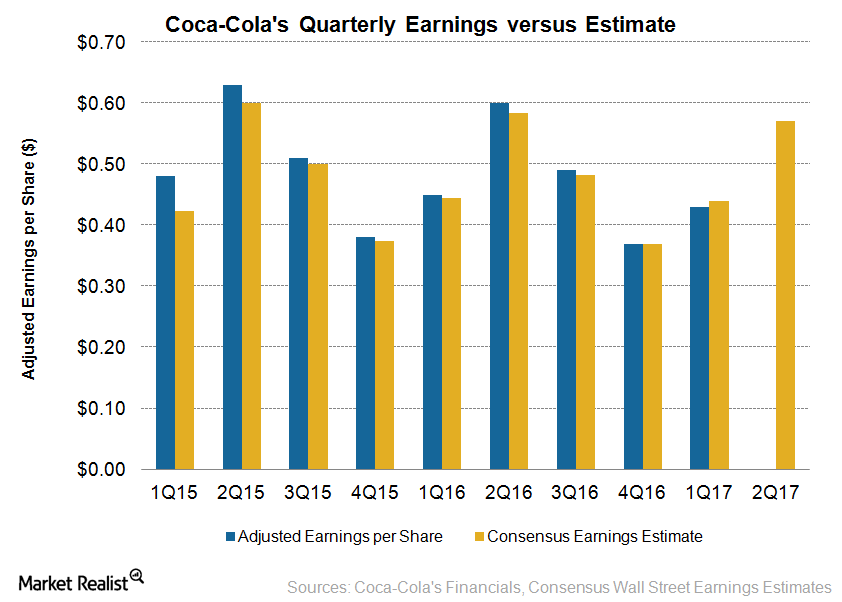 Why Coca-Cola's Earnings Might be Under Pressure in 2Q17
Earnings trend
Coca-Cola (KO) is slated to declare its 2Q17 results on July 26. The company's EPS (earnings per share) excluding one-time items have declined for eight consecutive quarters. The company's adjusted EPS (earnings per share) of $0.43 in 1Q17 lagged behind the consensus Wall Street analysts' estimate of $0.44.
Article continues below advertisement
Decline in earnings
The company's adjusted EPS fell 4.4% on a YoY (year-over-year) basis in 1Q17. This earnings decline was caused by weakness in the company's revenue, partially offset by better margins.
The company's bottom line was also adversely impacted by higher interest expenses, resulting from additional long-term debt issued in 1Q17 and in the second and third quarters of 2016. Coca-Cola's 1Q17 interest expenses were also higher due to interest rate swaps on the company's fixed-rate debt.
Earnings expectations
Analysts expect Coca-Cola's adjusted EPS to fall 5.0% to $0.57 in 2Q17. Structural changes and currency headwinds are expected to impact the company's earnings.
Based on the guidance issued in April 2017, Coca-Cola expects the net impact of acquisitions, divestitures, and other structural items to have a headwind of three to four percentage points on profits before taxes in 2Q17. Currency fluctuations are expected to have an adverse impact of three percentage points on 2Q17 profits before taxes.
By comparison, snack food and beverage giant PepsiCo (PEP) delivered adjusted EPS $1.44 in fiscal 2Q17, beating the consensus analysts' estimate of $1.40. The company's fiscal 2Q17 adjusted EPS rose 6.7% YoY driven by higher revenue.
For fiscal 2017, Coca-Cola expects its adjusted EPS to fall 1.0% to 3.0%, compared with $1.91 in 2016.
Now let's examine Coca-Cola's valuation multiple.