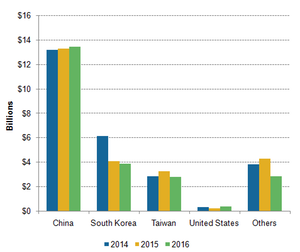 China: Qualcomm's Next Big Market
By Puja Tayal

Updated
RFFE opportunity in China
Earlier in this series, we saw that Qualcomm (QCOM) was increasing its semiconductor content per device by expanding its RFFE (radio frequency front end) portfolio with the help of its TDK joint venture. The biggest market for RFFE is China (FXI). Integrated front-end design helps Chinese customers to save time and effort, reducing their time to market.
RF360 Holdings' upcoming GaAs (gallium arsenide) power amplifiers and modules will help Qualcomm to increase its share in China's highly competitive price market.
Article continues below advertisement
Smartphone chipsets
Qualcomm is also seeing strong demand for its high-end Snapdragon 835 SoC (system-on-chip) in China because OEMs (original equipment manufacturer) such as OPPO, Vivo, and Xiaomi are using these processors in their premium devices. Earlier, these OEMs used MediaTek's higher-end SoCs. 
As these OEMs look to expand into international markets, they likely feel the need to improve performance, so they've adopted Qualcomm's Snapdragon 835, which is used by several Android handset makers, in their flagship products.
According to DigiTimes, Qualcomm's Snapdragon processors are eating up MediaTek's market share in China because the latter's processor lacks the Category 10 modem, which delivers higher maximum download speeds and supports more complicated MIMO (multiple input multiple output) antennas. MediaTek's gross margin has contracted from 50% to 35% over the last 12 months.
According to media reports, MediaTek is looking to improve its competitiveness by switching to TSMC's (TSM) 12 nm (nanometer) process in 4Q17 and launching a new flagship Smartphone chipset, the Helio X30, which supports voice assistant technology.
Qualcomm has also partnered with China's Datang Leadcore and JAC Capital to design, package, test, and sell chipsets for mass-tier Smartphones.
Article continues below advertisement
Qualcomm's presence in China's automotive market
Qualcomm's Snapdragon 820Am SoC has been selected by China's Geely Auto Group to power its next-generation infotainment systems, which are expected to launch in 2020. 
Select Geely models will feature the Snapdragon 820Am and an integrated X12 LTE (long-term evolution) modem supporting up to 600 Mbps (megabits per second) downlink and 150 Mbps uplink speeds. Geely's connected cars with telematics applications already use Snapdragon LTE modems.
What challenges did Qualcomm face in China?
However, Qualcomm was never able to tap into its full potential in China due to certain dis-synergies. The company's licensing business in China suffered in 2015 as government regulators imposed antitrust charges on it, after which several Chinese OEMs underreported sales, leading to losses in QCOM's licensing revenue. 
However, the company paid a $975 million fine and revised its licensing deals with most Chinese OEMs. It also managed to recoup some lost licensing revenue by taking compliance measures.
China presents a strong growth opportunity for Qualcomm in fiscal 2017 and beyond. Next, let's look at the impact of litigations, acquisitions, and future technology developments on the company's balance sheet.