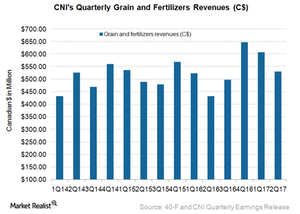 Canadian National Railway: Inside the 2Q17 Rise in Grain Revenues
By Samuel Prince

Updated
Canadian National's 2Q17 grain revenues
In this part, we'll analyze the 2Q17 rise in revenue for grain and fertilizers for Canadian National Railway (CNI). The segment is normally the third-largest share of CNI's overall operating revenues.
In the second quarter of 2017, grain and fertilizers revenue rose 23.0% to $530.0 million Canadian compared to $432.0 million Canadian in 2Q16.
The rise in grain and fertilizers revenue was due to a favorable conversion impact of a weaker Canadian dollar in 2Q17.
Article continues below advertisement
Grain and fertilizers volume in 2Q17
Canadian National Railway reported a 16.0% rise in its grain and fertilizers railcars in 2Q17 compared to the same quarter last year. This freight source's RTMs (revenue ton miles) rose 30.0%, and the revenue per railcar rose 6.0% in 2Q17. However, revenue per RTM fell 5.0%.
Below are some reasons grain and fertilizers volumes rose in 2Q17:
increased railcars of Canadian wheat to North American markets
higher export volumes of Canadian canola, barley, and potash fueled by robust overseas demand
healthy 2016–2017 Canadian grain crop
increased shipments of US soybeans and corn
Management insights
Canadian National Railway applies a co-location strategy to improve grain volumes. The company plans to build distribution centers near the existing or expansion of grain country elevators by GrainsConnect, G3 Canada, Cargill, ILTA Grain, and Viterra. CNI also expects to bank on a big grain transfer facility at the Port of Prince Rupert by Ray-Mont Logistics in August 2017.
The new container terminal at Duluth, Minnesota, should add to CNI's grain volumes going forward. The company has plans to build a container terminal service at Regina, Saskatchewan, in the first half of 2018. However, it's not upbeat on US crops due to grain transportation in the United States. On the potash front, CNI anticipates lower volumes in the second half of 2017.
What are peers' prospects?
Strength in the US dollar and a solid crop outside Canada and the United States have negatively impacted Class I railroads' (UNP) (NSC) grain crops in the past. However, with a weaker Canadian dollar and a robust Canadian crop, the grain transportation prospects for Canadian railroads (CP) are high in 2017.
Investors interested in the transportation and logistics space can opt for the iShares US Industrials (IYJ), which holds 5.9% in major US railroad companies.
Canadian National Railway has been an industry leader in operating margins. Let's take a closer look at that.