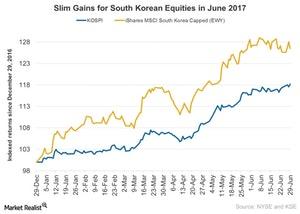 Can South Korean Equities Rise in July 2017 on Tax Reforms?
By Mary Sadler

Updated
South Korea's economy
South Korea's President Moon went on his first trip to the US June 29–30, 2017, since taking office in May 2017. Apart from North Korea's nuclear program, topics of discussion at this high-level meeting could also include the anti-dumping duties on steel imports in the US (SPY) and restrictions on US (F) (GM) (FCAU) auto sales in South Korea. President Trump has been vocal about unfair trade practices from its trading partners.
As per the KORUS FTA 2011 agreement, the average South Korean tariff for US exporters is four times more than the average tariff that South Korean products face in the US market. The KORUS FTA is a free trade agreement between the US and South Korea.
Article continues below advertisement
A positive outcome from this meeting is important, as stronger ties are beneficial for both the economies. South Korean (EWY) stocks continued to surge in June 2017, gaining about 2% as of June 29, 2017. Some macroeconomic factors continue to support the market performance including the rising consumer confidence and the expansion in industrial production in 2017.
South Korea market performance
The East Asia (VPL) stock market is surging with support from increased economic activity and improved earnings in 2017. The Central Bank of South Korea has kept interest rates at a record low, which has boosted confidence in the economy. The lower cost of borrowing for consumers due to a decrease in interest rate encourages consumer and investment spending.
Article continues below advertisement
Tax reforms in South Korea
The South Korean stock market's recent performance also suggests investors' confidence is improving with the newly elected president's expected reforms. The new revisions in tax law were announced on June 29 by the State Affairs and Planning Advisory Committee in South Korea. The tax laws, which are to be applicable beginning in July or August 2017, aim to remove distortions of the previous administration. The previous laws were seen to favor large businesses by giving them significant tax cuts.
Investments
South Korea's benchmark index, KOSPI, has risen about 18% so far in 2017, as of June 29. The iShares MSCI South Korea Capped (EWY) has dropped by about 2% in June 2017. However, it has posted ~27% gains so far in 2017 as of June 29, 2017. The drop in EWY as compared to the KOSPI Index in June 2017 could be due to the difference in the constituents and weights between the ETF and the index.
Let's look at the consumer confidence in South Korea in our next article.