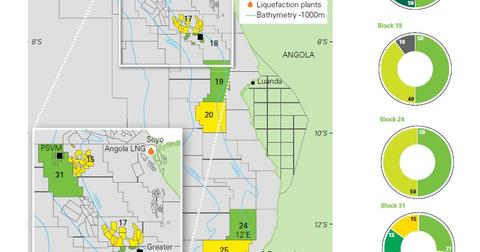 BP Rechurns Exploration Acreage to Create Competitive Portfolio
By Maitali Ramkumar

Updated
BP's exploration acreage
BP (BP) has rechurned its exploration assets to focus on assets that provide a competitive edge. To do so, BP has not only exited a few projects but also increased its stake in other projects. It is quite essential that BP monitors its exploration assets so that only projects that can provide returns at all points in an oil price cycle are retained.
In this context, BP Upstream chief executive Bernard Looney stated that "we are making disciplined choices throughout our business, including in exploration, and pursuing only opportunities that will deliver clear value for our shareholders. Equally important to this disciplined, value-over-volume strategy, we are choosing not to pursue activities that we don't think will deliver maximum value for our shareholders."
Article continues below advertisement
Rechurning portfolio
BP has chosen to exit Block 24/11 in Angola, where it has a 50% stake. The block contains a gas discovery, Katambi, which BP believes to be non-commercial for development. Plus, there are other exploration acreages in Angola that BP has decided to write off. As a result, BP will incur a $750 million non-cash write-off in 2Q17. BP is also exiting four blocks in the Great Australian Bight.
Contrarily, BP has added to its exploration portfolio by getting access to blocks in some of the promising regions around the globe. BP has fetched new licenses in the US Gulf of Mexico, the UK North Sea, offshore Canada, and in Mexico. BP was awarded 25 blocks in the North Sea, which represents a huge acreage addition since the 1990s.
BP's discoveries in 2017
BP has had four gas discoveries this year: Savannah and Macadamia in Trinidad, Qattameya in Egypt, and the Yakaar-1 exploration well in Senegal. The discoveries in Trinidad are estimated to hold around 2 trillion cubic feet of gas. Also, the discovery in Egypt was in the North Damietta Offshore concession, where BP is developing the Atoll field.
Discussing discoveries and licenses, BP head of exploration Howard Leach said that "this combination of new discoveries and new access has given BP a strong, resilient and more diversified exploration portfolio that lays the foundation for future growth in some of the world's most exciting hydrocarbon basins."
Series outline
This series will examine BP's financial position and market performance to determine its outlook in the near future. In the next few parts, we'll review BP's major upstream segment, earnings outlook, debt, and liquidity position. Later, we'll look at analysts' ratings, the dividend outlook, and BP's stock performance, price forecast based on implied volatility, changes in short interest, institutional holdings, and valuation. For more on BP's major upstream projects, continue to the next part.