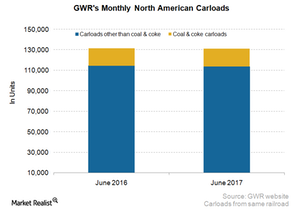 Behind Genesee and Wyoming's North American Shipments in June 2017
By Samuel Prince

Jul. 24 2017, Updated 7:41 a.m. ET
North American shipments
Genesee & Wyoming (GWR) operates in North America (excluding Mexico), the UK, parts of Europe, and parts of Australia. The company is the largest short-line operator in the US.
A short-line is an independent rail carrier that operates over a comparatively short distance. GWR is also known as a target-hunter railroad due to its numerous acquisitions in last few years.
In June 2017, Genesee & Wyoming registered a marginal decline in its North American traffic YoY (year-over-year). GWR hauled around 131,000 railcars in June 2017—almost equal to its volumes last June.
Article continues below advertisement
Change in commodity groups
GWR's North American coal (ANR) and coke carloads rose 4.1% in June 2017. The company moved 17,500 coal and coke railcars the same month, compared with ~17,000 railcars in the same month last year. Minerals and stone volumes rose 4.5% on account of higher shipments of construction aggregates in GWR's Central Region.
The commodity groups that posted a rise in carloads were agricultural products, auto and auto parts (TM), minerals, and stone and waste. The groups with lower volumes YoY in June 2017 were chemicals (DOW) and plastic, metallic ores, petroleum products (UNG), and pulp and paper.
GWR's acquisitions
GWR's North American carloads grew 3.3% YoY. Its North American railcars in June 2017 totaled ~136,000 carloads. In 2Q17, North American operations saw a YoY volume rise of 2.8%.
Notably, the company acquired Providence and Worcester Railroad on November 1, 2016, as well as the Heart of Georgia Railroad, the deal for which closed on May 31, 2017.