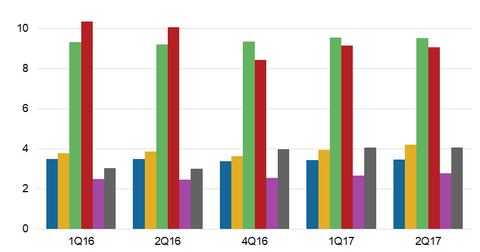 Bank of America's Residential Mortgage Yields Dipped in 2Q17 YoY
By Robert Karr

Updated
Rate hike scenario
The Federal Reserve has increased interest rates four times since December 2015, reaching 1.25% in June 2017. The major factors for this rate hike included improving fundamentals, a falling unemployment rate, and a stable global economy. The Fed is expected to raise rates once again in 4Q17 by 25 basis points. The reversing rate scenario has helped commercial banks (XLF) garner higher net interest margins and net interest income. 
Article continues below advertisement
In 2Q17, Bank of America's yields improved for home equity, US credit cards, and other consumer lending categories. Its yields were partially offset by a marginal decline in residential and non-US credit yields. As the cost of liability catches up for commercial and investment banks, their yields are expected to stabilize by 4Q17.
Further rate hikes in 2018 would depend largely on how global central banks—particularly the Australian, European, and Japanese central banks—alter their near-zero rate policies in order to not allow large-scale carry trade.
Core banking business growth in 2018 should be mostly determined by how credit offtake growth shapes up for major bankers such as JPMorgan Chase (JPM), Citigroup (C), and Wells Fargo (WFC).
Mortgages commanding weaker yields
Bank of America's (BAC) residential mortgage yield declined marginally to 3.46% in 2Q17, compared to 3.49% in 2Q16. Mortgage offtake has declined across the industry, mostly due to its offerings being more elastic to interest rates. The banking giant commanded an average yield of 3.00% on its total earnings assets of $1.92 trillion in 2Q17, compared to 2.75% on $1.87 trillion in 2Q16. 
Consumer offerings have garnered ~4.7% yields in 2Q17, up from ~4.6% in 2Q16. However, commercial offerings have garnered ~3.2% yields in 2Q17, compared to ~2.8% in 2Q16.
Bank of America's yield is expected to stabilize at current rates. However, its earnings assets can rise depending on how broad markets and the economy move in the next few months.