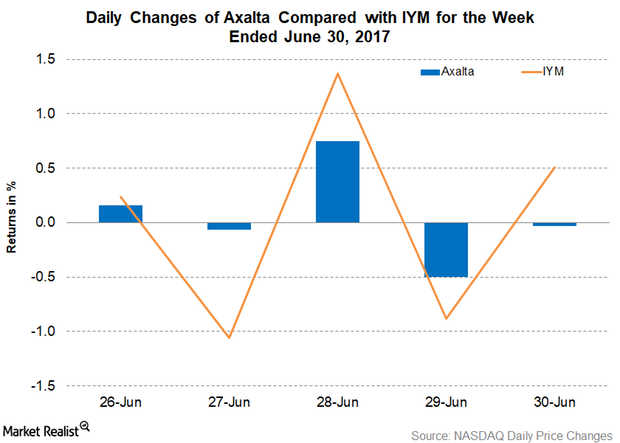 Axalta-Huajia to Supply Alesta Powder Coatings to Thermos
Axalta to supply Alesta powder coatings
On June 26, 2017, Axalta-Huajia announced it will supply Alesta powder coatings to Thermos, a well-known manufacturer of insulated food beverage containers. Axalta-Huajia is a joint venture between Axalta (AXTA) and the Yongjia Group. AXTA claims that Alesta has superior durability and meets food safety requirements. Alesta's powder coatings come in a wide range of colors and feature UV and chemical resistance.
Article continues below advertisement
Axalta-Huajia's general manager, Gray Cao, said, "We're excited to be a strategic partner to Thermos so that we can continue to not only bring beautiful, rich colors to their products but also help reduce energy consumption and protect the environment. We are also excited that we have been able to bring Axalta's cutting-edge technologies, sustainable solutions and professional experience to Thermos' R&D and innovation to provide value-added service for our customer."
Axalta's stock performance
Axalta made a marginal gain of 0.3% for the week ended June 30, 2017. With a year-to-date return of 17.8%, the stock closed 2.1% above the 100-day moving average price of $31.39. AXTA's RSI (or relative strength index) stands at 45, indicating that the stock is neither overbought nor oversold. An RSI of 70 and above indicates that the stock is overbought, while an RSI of 30 and below indicates that the stock is oversold. AXTA's 52-week low is $24.27, while its 52-week high is $34.10. Analysts are expecting AXTA's 12-month target to be at $33.88, which implies a potential return of 5.7% from the closing price of $32.04 as of June 30, 2017.
The iShares U.S. Basic Materials ETF (IYM), which invests 1.2% of its portfolio in AXTA as of June 30, 2017, rose 0.1% and underperformed AXTA for the same period. The top holdings of the fund include Dow Chemical (DOW), DuPont (DD), and Monsanto (MON), which have weights of 11.8%, 11.6%, and 8.7%, respectively.