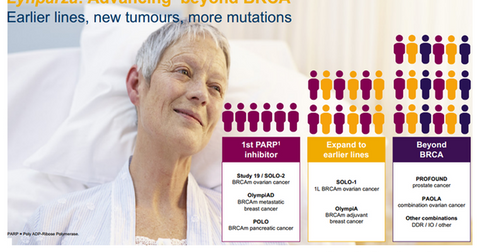 AstraZeneca Is Focused on Lynparza's Label Expansion in 2017
By Margaret Patrick

Updated
Lynparza's label expansion
On March 28, 2017, the FDA accepted for review AstraZeneca's (AZN) new drug application (or NDA) seeking approval for Lynparza as a second-line maintenance therapy for BRCA-mutated ovarian cancer.
This application, which was granted a priority review by the FDA, is based on results obtained from the SOLO-2 trial and Study 19. AstraZeneca expects to launch Lynparza in tablet formulation for this indication by 3Q17.
On June 4, 2017, AstraZeneca announced positive results from its phase 3 trial, Olympia, which demonstrated the superiority of Lynparza over standard chemotherapy in reducing the risk of disease progression or death in patients suffering from BRCA-mutated breast cancer.
Based on these results, if approved by regulatory authorities, Lynparza would become the first PARP inhibitor in this indication, ahead of AbbVie's (ABBV) veliparib and Pfizer's (PFE) talazoparib.
If AstraZeneca manages to expand Lynparza's label beyond ovarian cancer, it may have a favorable impact on its share price as well as that of the Vanguard FTSE Europe ETF (VGK). AstraZeneca makes up about 0.32% of VGK's total portfolio holdings.
The illustration above summarizes AstraZeneca's research programs for Lynparza.
Article continues below advertisement
Future data readouts
AstraZeneca is currently exploring Lynparza as first-line maintenance therapy in ovarian cancer in the SOLO-1 trial. Data from this study should be available in the second half of 2017. The company is also exploring the drug in BRCA-mutated pancreatic cancer indication in the POLO trial.
In the Olympia trial, Lynparza is being evaluated in first-line BRCA-mutated breast cancer indication in an adjuvant setting.
AstraZeneca is aiming to expand Lynparza's label beyond BRCA-mutation-driven cancers. The drug is being evaluated in the PROFOUND trial as a treatment option for prostate cancer.
To leverage opportunity in the entire ovarian cancer and breast cancer segments, AstraZeneca is exploring a combination regimen involving Lynparza with the multi-vascular endothelial growth factor receptor (or VEGFR) inhibitor, Cediranib.
The superiority of this combination therapy over Lynparza monotherapy based on progression-free survival was demonstrated by the mid-stage study data released in 2014. In the PAOLA trial, the company is studying the combination of Lynparza with Roche Holdings' (RHHBY) Avastin in first-line metastatic ovarian cancer indication.
In the next article, we'll discuss demand trends for AstraZeneca's diabetes drug, Farxiga.